17-07-2020 | Issue 3/2020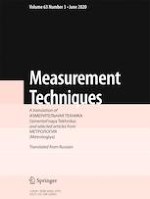 Estimating the Integral of the Square of Derivatives of Symmetric Probability Densities of One-Dimensional Random Variables
Journal:
Authors:

A. V. Lapko, V. A. Lapko
Important notes
Translated from Metrologiya, No. 1, pp. 15–27, January–March, 2020.
In justifying a method for rapid choice of the spread coefficient of kernel probability density estimates, a constant has been found which is a functional of the second derivative of the density. This result is generalized to the derivatives of symmetric probability densities of different orders in this paper. Functional dependences of these constants on the coefficient of antikurtosis of a random variable are found. The features of these constants are studied. A method for estimating functionals of derivatives of the probability densities that assumes fulfillment of the following steps is developed on the basis of these results. The mean square deviation of the one-dimensional random variables and the antikurtosis coefficient are estimated from the original sample. The recovered functional dependences of the antikurtosis are used to estimate the values of constants which are functionals of the derivatives of the probability density. For the known estimates of the mean square deviation of random variable being studied and the constant examined here, the values of the functional of the derivative of the probability distribution of the chosen order are calculated. The results are confirmed by analyzing data from a numerical simulation. It is found that with increasing order of the derivative, the estimates of these functionals increase. This fact is explained by the increasing complexity of the integrand in these functionals. The proposed method provides objective results for the first three derivatives of the probability density of the random variable. The results of this study are confirmed by a confidence estimate for the functionals studied here.