01-11-2019 | Issue 5/2019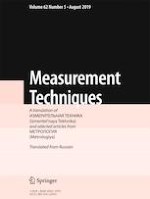 Estimation of Conformance Bands for Linear Regression with Correlated Input Data
Journal:
Authors:

A. V. Stepanov, A. G. Chunovkina
Important notes
Translated from Izmeritel'naya Tekhnika, No. 5, pp. 21–24, May, 2019.
The problem of calculating the uncertainty bands for a linear regression with correlated initial data is considered. The conformance factors for regression uncertainty bands with different models of errors in the initial data are obtained by the Monte-Carlo method. The linear regression coefficients are estimated by the generalized method of least squares. The following models of measurement error are considered: Gaussian white noise, exponentially correlated noise, and flicker noise. A comparative analysis of the uncertainty bands of linear drift is conducted for these models.