15-02-2019 | Original Paper | Issue 7/2019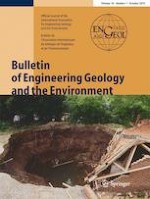 Estimation of ground pressures on a shielded TBM in tunneling through squeezing ground and its possibility of jamming
Authors:

Ömer Aydan, Rohola Hasanpour
Abstract
Single- and double-shield tunnel boring machines are being increasingly considered for use in rock tunneling projects. However, one of the main concerns in using a shielded machine for excavating long and deep tunnels is the possibility of the shield seizure in squeezing ground. In this study, a method is developed incorporating a theoretical model using the approach of Aydan et al. (Rock Mech Rock Eng 26(2):137–163,
1993
; Rock Mech Rock Eng 29(3):125–143,
1996
): the displacement function related to face distance and the type and rigidity of shields for estimating contact ground pressure on TBMs through squeezing rocks. Examples of simulations for Uluabat and T26 tunnels excavated by single-shield TBMs and experienced severe entrapment problems are given and discussed. Moreover, 3D finite difference modeling of tunneling using the shielded machine was developed, which allows realistic evaluation of shield jamming by calculating the contact ground pressure around the shield. Finally, the results from numerical investigations were compared with the outcomes of the proposed method. The numerical investigations are used for crosschecking the results from the method developed.