21-02-2018 | Original Paper | Issue 2/2018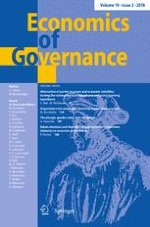 Ethnic divisions and the effect of appropriative competition intensity on economic performance
Journal:
Author:

Pierre Pecher
Important notes
This research was carried out thanks to the support of the A*MIDEX project (No. ANR-11-IDEX-0001-02) funded by the "Investissements d'Avenir" French Government programme, managed by the French National Research Agency (ANR), and the ANR project (No. ANR-17-CE39-0009-01) funded by the French National Research Agency (ANR), within the framework of the TMENA and TMENA2 projects (
http://​christophemuller​.​net/​tmena/​
). I am grateful David de la Croix for his help and advice. I am also thankful to Raouf Boucekkine, Frédéric Docquier, Frédéric Gaspart, Christophe Muller, Nippe Lagerlof, Hélène Latzer, Fabio Mariani, Petros Sekeris, Chrysovalantis Vasilakis, Fabien Prieur, an anonymous referee and the Editor for their comments on earlier versions of this paper.
Abstract
This paper features a growth model with an appropriative contest and a common-pool investment game between politically organised rival ethnic factions. I determine how the long-run equilibrium coalition shapes incentives to invest, show the existence of a unique steady state, and investigate how the ease to capture rents affects economic performance. The use of numerical simulations concerning a global sample of countries demonstrates that contest intensity can sometimes be beneficial, despite wasteful grabbing behaviours, due to a mechanism related to the concentration of power. When rents become easier to capture, dominant groups have an incentive to expand their influence further. This adjustment can be beneficial as these groups contribute most to capital accumulation.