Published in: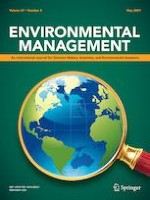 Open Access 10-02-2021
Evaluating Non-Market Values of Agroecological and Socio-Cultural Benefits of Diversified Cropping Systems
Published in: Environmental Management | Issue 5/2021
Abstract
We explored how consumers value the ecological and socio-cultural benefits of diversified food production systems in Finland. We used a stated preference method and contingent valuation to quantify consumers' willingness to pay (WTP) for the benefits of increased farm and regional scale diversity of cultivation practices and crop rotations. Three valuation scenarios were presented to a representative sample of consumers: the first one focused on agroecosystem services on cropland, the second on wider socio-cultural effects and the third was a combination of them. The results suggest that consumers are willing to pay on the average €228 per household annually for the suggested diversification. This is equal to €245 per hectare of cultivated cropland. The results also indicate that 21% of consumers were not willing to pay anything to support more diverse cropping systems. The relatively high WTP for both agroecological and socio-cultural benefits provide important messages for actors in the food chain and for policy makers on future targeting of economic resources within agri-environmental schemes.
Publisher's note
Springer Nature remains neutral with regard to jurisdictional claims in published maps and institutional affiliations.
Introduction
This study focuses on the value of diversified cropping in southern Finland, the prime crop production region in the country. We used a stated preference method, contingent valuation, to explore how much consumers would be willing to pay for a broad range of consequences of shifting current monocultures to more diverse cropping systems with a specific emphasis on milk and cheese production. The aims of the study were (1) to elucidate how consumers value agroecosystem services enabled by cropping diversification and (2) to provide consumer perspectives for developing future agricultural and food policies to better support cropping diversification.
We find that the non-market value of diversification benefits is very significant and comparable to the market revenues of crop production in Finland. However, the variability is high in the willingness to pay (WTP). A significant minority of consumers is not willing to pay anything for diversification. We contribute also in showing what is the role of agroecological and socio-economic dimensions of the ecosystem services linked to diversification. All these aspects are important to be considered by policy makers and actors in agricultural value chains. Our results suggest that promoting cropping diversification requires skill due to the variability of consumers' preferences and opinions. The next section provides more basis for our study, before the methods and results are presented.
Scientific Background for the Valuation Scenarios
Diversified farming practices under low-input and organic systems sustain and supply multiple agroecosystem services, thus reducing environmental externalities and the need for off-farm inputs. Diverse crop rotations can improve the resilience of cropping systems to multiple environmental stresses and thus increase yield stability and the overall sustainability of food production (Gaudin et al.
2015
). Management options that reduce soil disturbances and lengthen the period of soil cover conserve soil carbon (Stockmann et al.
2013
) and reduce losses to the watercourses (Valkama et al.
2015
; Mhazo et al.
2016
). Low-input or diversified farming increases the richness and abundance of species in agroecosystems (Bengtsson et al.
2005
; Santangeli et al.
2019
). Kremen and Miles (
2012
) compared biologically diversified and conventional farming systems and identified ten agroecosystem services relevant for the sustainability of food production (Table
1
).
Table 1
Agroecosystem services of diversified farming systems (Kremer and Miles
2012
)
| | |
| --- | --- |
| Biodiversity | Pollination services |
| Soil quality | Carbon sequestration |
| Nutrient management | Resistance and resilience to climate change |
| Water-holding capacity | Control of weeds, diseases and pests |
| Crop productivity | Energy-use efficiency and reduction of warming potential |
Cropping diversification has gained attention when strategies towards more sustainable and climate resilient agriculture have been outlined (Soussana et al.
2012
). Since cropping diversification can reduce the intensive usage of pesticides and synthetic fertilizers, and mitigate greenhouse gas emissions, it can be seen as one important element of sustainable intensification of agriculture, a key concept and strategy for meeting the challenge of feeding increasing global population (Tilman et al.
2011
). Monocultural rotations can be broken, e.g., by winter crops, catch crops, pulses, oilseed crops and clover grass or other grass leys. Diversification of rotations can be combined with diverse management practices like reduced tillage or no-till providing increased biodiversity above and below ground, improved soil quality, enhanced water-holding capacity and increased carbon content of the topsoil thus improving resilience and increased yield stability (Kremen and Miles
2012
). Diversification may include low-input management practices with reduced use of synthetic fertilizers, pesticides, machinery, energy and water, with no or little decrease in crop yields (Lin
2011
; Smith et al.
2008
).
In addition to the farm and field scale diversification, diversification can be considered in regional scale. Although dairy production has had a tendency of gradual concentration to relatively few regions (OSF
2019a
), spread of grassland-based dairy production across the country would be an effective way to maintain rotational grasslands and thus diverse crop rotations in a northern country with limited possibilities for extending the vegetated period of fields with other means (Peltonen-Sainio et al.
2017
). For example, local farm-scale cheese production with differentiated special products supports this goal and promotes the vitality of local food traditions.
In the following, we outline the building blocks of our valuation scenarios: the agroecological and socio-cultural aspects of food production in Finland linked to the diversification of cropping systems.
Greenhouse Gases
Carbon Balance of Soils
According to recent research the organic carbon content of cropland soils decreases with the prevailing agricultural management (Heikkinen
2019
). Cropland management with perennial grasses or other deep-rooted species builds up organic matter in soil (Francaviglia et al.
2019
; Poeplau and Don
2015
; Stockmann et al.
2013
).
Nutrient Leakage
Eutrophication is a major problem for the Baltic Sea and fresh waters. This is a very well-known and visible environmental problem to consumers. Agriculture is a significant source of nitrogen to the environment (Hellsten et al.
2019
). In spring cereal production, non-legume catch crops represent an effective method for reducing nitrogen leaching across the varieties of soils and weather conditions in the Nordic countries. Catch crop reduces field nitrogen leaching losses on the average by 50% (Valkama et al.
2015
). Based on recent land use data on the feasible crop rotations, it can be estimated that the current area of cover crops can be even tripled (OSF
2020a
).
Better Growing Conditions and Robust Crop Yield
Climate change is expected to increase the risk of plant diseases and pests as well as sensitivity to exceptional weather conditions and weaken growth conditions in Nordic agriculture (Wiréhn
2018
). Diverse cultivation can decrease the emergence of pests and diseases and improve the robustness of crop yields in extreme weather conditions. Soil structure and growth conditions are expected to improve due to diversification (Kremen and Miles
2012
).
Abundance and Diversity of Organisms in Fields and Soils
Arable farms often have simple rotations (cultivation of 2–3 plant species, which may also be rather similar, e.g., spring cereals) or monocultures (Peltonen-Sainio et al.
2017
). The amount of wildlife organisms and species, especially that of farmland birds and insect, is currently decreasing, e.g., because of declining number of grazing animals (Santangeli et al.
2019
; OSF
2019a
). Consequently, land use has shifted towards cereals instead of grasslands and leguminous crops (OSF
2020a
). Diversified cultivation, reduced tillage and increased number of grazed grasslands increase the variety of flora and fauna, e.g., the number of plant and animal species in fields and soils (Ekroos et al.
2019
; Nieminen et al.
2011
; Tiainen et al.
2020
).
Organic Dairy Production
The share of organic milk production is about 3% and organic crop production covers 11% of the total arable area in Finland (Finnish Food Information
2019
). Organic dairy production features not only organic fertilization or low-input forage crop management; it is also connected to diverse crop rotations and better animal welfare. Organic dairy production offers a bundle of agroecosystem services, and as grazing is obligatory it also provides sceneries with grazing animals.
Low-Input Production
In low-input production, farms use fewer inputs purchased outside the farm, such as fertilizers, energy, plant protection products and feed. Fostering agrobiodiversity reduces the need for off-farm inputs. Legumes cultivated with grains reduce the use of fertilizers and enhanced floral diversity may attract natural enemies to crops and provide pest control (Kremen and Miles
2012
).
Grazing Animals in Landscape
Dairy and beef farms have been decreasing at a relatively rapid rate, 6–8% per year in southern Finland during the last 30 years (OSF
2019a
) and due to that grazing animals are increasingly rare in the landscape. The other reason for reduced presence of grazing dairy cows is that significance of pasture feeding is decreasing. While grazing has earlier been a practice in almost all dairy and beef producing farms, recent information shows that 72% of dairy farms utilize summertime grazing (Finnish Food Information
2019
).
Variation of Crops in the Landscape
Intensive crop production features little or no variation in the landscape as variety of few crop species is low or the same crop is grown on the same site year after year (Peltonen-Sainio et al.
2017
). In a diversified cropping system clover and pea species add variation in plant biodiversity, and oilseed rape cultivation brings yellow colour to the landscape.
Regional Equality
The decrease in the number of dairy farms and dairy cows has been relatively fast in southern Finland compared to other regions (OSF
2019a
). Activities like viable local cheese production support the vitality of milk production also in the southern part of the country.
Rural Jobs
Dairy milk products from raw milk are increasingly produced in relatively few and large specialized dairy processing plants. Approximately 50% of cheese consumed in Finland is imported and the market share of domestically and locally produced cheese has gradually decreased since 2000 (OSF
2018
). Domestic cheese production supports the maintenance of jobs in the cheese production chains.
Tradition of Cheese Processing
Milk products in general and especially cheese, as well as local products, have strong appreciation in Finnish food culture. In 2018, cheese consumption per capita was 26 kg per year (~0.5 kg per week per person) (Luke
2019a
). Maintenance of cheese-making skills, knowhow and traditions in various regions of the country supports the cultural heritage of food culture.
In the following section we explain how the value scenarios were built based on the 12 characteristics described above.
Methods
Results
Unwillingness to Pay
The results indicate that 21% (
n
 = 126) of consumers were not willing to pay any extra expenditure to support more diverse cropping systems. Almost half of these respondents indicated that they cannot afford to pay more (
n
 = 58, 46% of no responses). The statement "Consumers or taxpayers should not pay extra cost" was agreed by 31% of the respondents that were not willing to pay any extra. Thirty per cent of the respondents in this group also stated that the current cultivation practices are diverse enough.
Opinions of Consumers on the Importance of Agroecosystem Services
Opinions of consumers on the significance of different aspects of Finnish agriculture, including the effects that are implications of diversified cropping systems, were collected by using a five-point Likert-scale, from 1 (very small) to 5 (very high). The opinions on the importance of diversification and other agroecosystem services related to cheese making are shown in Table
5
.
Table 5
Importance of different aspects of diversification from the viewpoint of consumers
| | Mean—scale 1–5 (standard deviation in parenthesis) | Cannot say (% of respondents) |
| --- | --- | --- |
| 1. Domestic food production and processinga,b | 4.41 (0.82) | 1.8 |
| 2. Nutrient leakages from agriculture will decreasec | 4.32 (0.88) | 2.8 |
| 3. Finnish food culture is preserved (tradition, knowledge and processing skills)b | 4.25 (0.90) | 1.9 |
| 4. The ability of fields to act as carbon sink and combat climate change is improvingc | 4.18 (0.89) | 5.0 |
| 5. The jobs in rural areas remainb | 4.13 (0.94) | 2.7 |
| 6. Greenhouse gas emissions from agriculture are decreasingc | 4.12 (0.96) | 3.3 |
| 7. Abundance of wildlife organisms in the field and soilc | 4.09 (0.87) | 5.9 |
| 8. Diversity of arable cropsa,c | 4.06 (0.85) | 3.9 |
| 9. The growing conditions in the fields and robustness of crop yields under varying conditions improvec | 4.04 (0.86) | 6.7 |
| 10. Organic production is becoming more commonc,b | 3.87 (1.05) | 4.0 |
| 11. The arable landscape has varied vegetationb | 3.84 (0.93) | 5.9 |
| 12. The variety of species of production animalsa,c | 3.78 (0.96) | 5.6 |
| 13. The grazing cows are in sight in the landscapeb | 3.72 (1.05) | 3.1 |
| 14. Low-input production methods become more common (less inputs from outside the farm)b | 3.61 (0.97) | 15.2 |
| 15. Evenness of regional distribution of agricultural production and processingb | 3.54 (0.99) | 9.5 |
Totally 15 aspects were identified, but only 12 were selected to the final valuation scenario. Among the highest ranked were domestic food production, followed by features arising from diversified cropping (decreasing nutrient leakages, preserving Finnish food culture, carbon sequestration and rural jobs). Low-input production was found difficult to estimate since 15% of respondents answered, "cannot say".
Willingness to Pay for Agroecosystem Services
For the respondents who were willing to pay for more diverse cropping systems (79%,
n
 = 474), we estimated mean WTP for the three scenarios. The ranges of WTP to the offered bids were estimated from responses "definitely would pay", "possibly would pay" and "definitely would not pay" (Table
6
). It seems that scenario 1 (ecological benefits), with the effect coming from diversified cropping system, was marginally higher valuated (WTP €16/month/household) than scenario 2 with socio-cultural benefits (WTP €15/month/household). Responses of the group "possibly would pay" resulted in a higher value for the socio-cultural benefits. Finally, the third scenario combining scenarios 1 and 2 had a relatively small (19–27%) increase (considering the increase in the number of attributes by close to 100%) on WTP compared to that in scenario 1 or 2. Still the third scenario had a higher value since it had all attributes included that were present in scenarios 1 and 2. This result is consistent with the decreasing marginal utility from additional benefits. It is also important to see high variability in the WTP as indicated by the average WTPs and their certainty intervals based on "possibly would pay", "definitely would pay" and "definitely would not pay" answers, i.e., many individuals were willing to pay significantly more (or less) than the average WTP in case "definitely would pay" (Table
6
).
Table 6
Estimated mean WTP in three scenarios (€ per household per month or year)
WTP for ecological benefits (scenario 1)

€ per month [95% CI]

WTP for socio-cultural benefits (scenario 2)

€ per month [95% CI]

WTP for combined scenario (scenario 3)

€ per month [95% CI]

WTP for combined scenario (scenario 3)

€ per year

Mean

Definitely would pay

16

[13, 19]

15

[12, 18]

19

[15, 23]

228

Mean

Possibly would pay

32

[27, 37]

35

[29,41]

40

[32,48]

480

Mean

Definitely would not pay

85

[75, 95]

121

[111, 131]

124

[104, 144]

1488
Discussion
The results of the survey suggest that consumers value several benefits of crop diversification. As much as 79% of Finnish consumers were willing to pay higher food expenses for diversified cropping indicating that positive socio-cultural and ecological effects of crop diversification such as domestic food production, food security, nutrient leaching, food culture or carbon sink are very significant for consumers.
Results highlight some favourable aspects of organic production such as increased cropping diversification, improved and more robust crop growing conditions in the fields and increased landscape diversity. However, regional distribution of agricultural production and processing within Finland, and low-input production methods, and less purchased inputs on farms as a consequence of diversification were considered relatively least valuable. Many consumers could not say if the low-input production methods are valuable. This is understandable since low-input production methods are related to the farm level management consumers are most often not aware of. Most consumers thus cannot evaluate the meaning and significance of the changes in, e.g., input use at the farm level.
Since hypothetical valuation methods do not deal with real money they are not incentive compatible, WTP values elicited in the third scenario can be considered more conservative and realistic choice for further analysis. Hence we recommend using the WTP estimates for ecological and socio-cultural benefits of the third scenario in future studies.
However, rather than only emphasizing the relatively large potential non-market values calculated for cropping diversification, which seems to be much dependent on the national and local context and the value of primary agricultural production in specific production lines, it is also important to see that in our study 21% of respondents were not willing to pay anything for increased cropping diversity in their food expenditures. Almost half of them (46%) expressed a view that they cannot afford to pay more for food. Moreover, 30% of those not willing to pay agreed with a view that consumers should not be the ones who pay for the diversified cropping, and 31% agreed with a view that current cropping practices are diversified enough. Thus, the diverse views of consumers and underlying arguments behind the views are worth to be considered when planning future agri-environmental or other policies directing tax funds to cropping diversification. Questions like "Who should really pay for the non-market values related to cropping diversification and why" are indeed valid for policy planners, farmers and other actors in the food and agriculture values chains. They should define who are the customers and beneficiaries of the agri-ecosystem services, and what is the fair rate and method of payment if part of the values is not included in the food prices.
Conclusions
Our results show that 79% of households were willing to pay extra for cropping diversification and that this corresponds to a significant monetary value of ecosystem services. The calculated total non-market value of cropping diversification at the country level can be as high as 47–95% compared to the annual market revenues of cereals, and 15–32% compared to the total market revenues in agriculture in Finland. Several other similar but not identical studies and non-market valuations also show significant or even higher WTP results compared to our study. However, we see this kind of studies and their results somewhat specific to countries and cases of diversifications and one should be careful in making general conclusions.
Nevertheless, better understanding of the consumer point of view is important in finding both market and policy-based solutions for diversification. The effectiveness of agroecological schemes needs to be developed further but a higher contribution by consumers can also likely be anticipated to fund future transition towards more sustainable food production.
Findings on the valuation of different ecosystem services help different actors of the food chain or policy makers to stress the most valued consequences and use the related arguments when, e.g., motivating the use of public expenditures. This study showed that positive societal implications of cropping diversification were valued slightly higher than direct field level effects of diversification. In particular, improved maintenance of domestic food production and processing, reduced nutrient runoffs from agriculture, maintained food culture and tradition, as well as improved carbon balance of agriculture and the number of jobs in rural areas were valued high. Rather traditional arguments based on ecology have been used in promoting, for example, organic and low-input agriculture but their effects on carbon sequestration and more resilient food production with positive effects on rural jobs and local food culture have been less emphasized. Using a larger selection of arguments would help to reach a wider variety of consumer types.
Acknowledgements
This research has been conducted as part of the project "Diverfarming" supported by the European Union's Horizon 2020 Programme for Research & Innovation under Grant Agreement No. 728003 (diverfarming.eu). This study does not represent in any part the official opinion of the European Commission. We acknowledge valuable comments from Professor Eija Pouta and Dr. Annika Tienhaara in the beginning of this study. We wish to thank two anonymous reviewers whose feedback helped us improve the article.
Compliance with Ethical Standards
Conflict of Interest
The authors declare no competing interests.
Ethical Approval
The study was conducted in accordance with the ethical standards and guidelines of the Finnish Advisory Board on Research Integrity in line with the European Code of Conduct for Research Integrity, including the recommendations on ethical review in human sciences. According to these guidelines participation in research should be voluntary and based on informed consent. In addition, for participation recruitment the marketing research company was chosen that will follow ethical principles of marketing called ESOMAR or similar principles. No sensitive age or otherwise sensitive groups are interviewed. Research conducted does not intervene in the physical integrity of subjects. All partners will be committed that participation should be voluntary and based on informed consent.
Informed Consent
In accordance with the H2020 protocol, the survey data were collected by using mandatory consent question. Before the consent question, the project and its aims were explained to the respondents. If they decided to proceed to the survey, they agreed that they have been given the relevant information. If a respondent chose not to give their consent, then they were unable to proceed and complete the survey.
Open Access
This article is licensed under a Creative Commons Attribution 4.0 International License, which permits use, sharing, adaptation, distribution and reproduction in any medium or format, as long as you give appropriate credit to the original author(s) and the source, provide a link to the Creative Commons license, and indicate if changes were made. The images or other third party material in this article are included in the article's Creative Commons license, unless indicated otherwise in a credit line to the material. If material is not included in the article's Creative Commons license and your intended use is not permitted by statutory regulation or exceeds the permitted use, you will need to obtain permission directly from the copyright holder. To view a copy of this license, visit
http://​creativecommons.​org/​licenses/​by/​4.​0/​
.
Publisher's note
Springer Nature remains neutral with regard to jurisdictional claims in published maps and institutional affiliations.