19-04-2020 | Issue 1/2020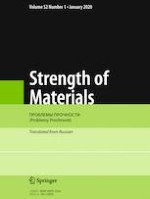 Evaluation of Compression Strength of Concrete Specimens via Experimental Results and Numerical Simulation
Journal:
Authors:

R. Shirinabadi, E. Moosavi
Important notes
Translated from Problemy Prochnosti, No. 1, pp. 158 – 169, January – February, 2020.
The concrete compression strength is an effective characteristics among other properties of practical significance. Although coring testing on such members as columns is not recommended. But sometimes, for determining the concrete strength in the column, this method should be applied to the reinforced concrete one. Coring in a reinforced concrete column creates a cylindrical cavity in it, which has an apparently negative effect on the bearing capacity of the structural member. The effect of different sizes of cavities on uniaxial compression strength of concrete was investigated based on the experiment and numerical simulation (particle flow code). The results of the experiments show that the cavities have a great influence on the uniaxial compression strength. For example, if the cavity volume is calculated about 14% of the sample volume, it can reduce of the uniaxial compression strength down to 58%. If the cavity diameter is 60% of the sample width, the strength can go down to 74%.