01-02-2017 | Original Article | Issue 3/2017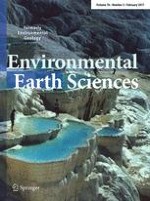 Evaluation of fluidized bed asbestos segregator to determine erionite in soil
Journal:
Authors:

Daniel Farcas, Martin Harper, Jed W. Januch, Teri A. Jacobs, Khachatur Sarkisian, Larry D. Stetler, Diane Schwegler-Berry
Important notes
Electronic supplementary material
The online version of this article (doi:
10.​1007/​s12665-017-6438-7
) contains supplementary material, which is available to authorized users.
Abstract
Three sets of soil samples were collected by the National Institute for Occupational Safety and Health and one set by South Dakota School of Mines & Technology from in and around the Slim Buttes Land Unit of the Sioux Ranger District of the Custer–Gallatin National Forest in the northwest of South Dakota. The rocks forming the Slim Buttes are sedimentary clays, sands and gravels including re-worked volcanic ash-falls in which the zeolite mineral erionite has crystallized during diagenesis in a fibrous form or morphology similar to that of asbestos. The samples were prepared using the fluidized bed asbestos segregator (FBAS) and analyzed by phase contrast microscopy (PCM) or transmission electron microscopy to detect the presence of mineral fibers. FBAS–PCM results compared to semi-quantitative polarized light microscopy (PLM) and X-ray diffraction analysis indicated a recovery of approximately 1% and a linear relationship that likely can be extrapolated to concentrations well below the 1% detection limit of PLM. There were small variations between a PCM count of 10 fibers to a count of 100 fibers (or a maximum of 200 microscopic fields of view), which indicates the possibility of rapid turnaround of results. Although the four sets of samples examined in this work were collected by slightly different techniques, some tentative conclusions can be drawn about the distribution of erionite in soils. Erionite was detected in almost every soil sample, even those taken several miles from the outcrop, but without any distribution indicating recent transportation from the current volcaniclastic sediment outcrops. Removal of more extensive volcaniclastic sediments through erosion may have resulted in remnant material in soils, including erionite crystals, but this possibility requires further study. Although we have demonstrated that erionite in soils can be detected through FBAS–PCM, we have not attempted to correlate those results with human inhalation exposure through activity-based sampling, and thus, any risk inherent in working these soils is unknown.