17-07-2020 | THERMAL MEASUREMENTS | Issue 3/2020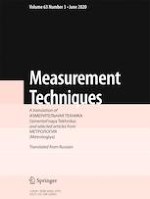 Evaluation of the Density of Entropy Production in the Experiment with Impulsive Electric Heating
Journal:
Authors:

A. V. Kostanovskii, M. E. Kostanovskaya
Important notes
Translated from Izmeritel'naya Tekhnika, No. 3, pp. 29–34, March, 2020.
We study the linear mode of thermodynamics, which is now extensively investigated. One of the main concepts of the linear mode is the density of entropy production. We increase the class of problems for which it is necessary to compute the density of entropy production, i.e., to find this density according to the experimental thermograms (variations of temperature with time) of heating or cooling. The thermograms of heating or cooling are widely used in the nonstationary thermophysical experiments aimed at the investigation of the properties of substances and materials: the phase transformations of the first and second kind, heat capacity, and thermal diffusivity. We give quantitative substantiation of the formula for the density of entropy production. This formula is based on the data of thermograms obtained by the method of impulsive electric heating. The input time dependences of the electric power and brightness temperature of niobium specimens are simultaneously measured within a microsecond range. We reveal the agreement of the obtained two time dependences of the density of entropy production: one dependence takes into account the input of electric power, whereas the second dependence is based on the thermogram.