12-05-2018 | Issue 4/2018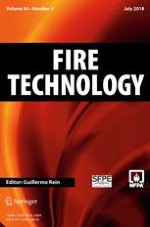 Evaluation of the Residual Strength of a Polyester/
E

-Glass Composite Tray After Exposure to High Temperatures Due to a Nearby Fire Event
Journal:
Authors:

B. J. Lopes, G. A. S. da Silva, J. R. M. d'Almeida
Abstract
The mechanical behavior of pultruded polyester/
E
-Glass trays was evaluated as a function of high temperature exposure time at 250°C. This temperature was chosen based on the composite's thermal behavior, which was determined by thermogravimetric analysis and differential scanning calorimetry. The mechanical behavior of the composite was determined before and after exposure to high temperature by using a three-point bending test and a non-destructive sonic test. The average value of the fracture load increased in the first 90 min of exposure to temperature, and only after longer exposure times, upwards of 120 min, the failure load decreased. This behavior was attributed to a post-curing effect on the composite's polymeric matrix. However, toughness sharply decreased as a consequence of the exposure to temperature, and large amounts of smoke were generated, even after exposures as short as 30 min. The value of the damping ratio evaluated by the sonic test, decreased during the first 60 min of exposure and then increased, showing a possible competition between post-curing and thermal degradation as a function of exposure time. From a macroscopic point of view, it can be observed that the failure of fiber/matrix interfaces may be the main damage mechanism.