01-10-2009 | Ferroelectrics | Issue 19/2009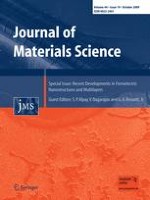 Evidence of 90° polarization switching in polycrystalline macro-domains of self-supported BaTiO3 films
Journal:
Authors:

Nathan Suleimanov, Alla Milner, Ilijya Zon, Alexander Roytburd, Igor Lubomirsky
Abstract
It was shown previously that the self-supported films of nanocrystalline (30–80 nm) BaTiO
3
spontaneously split into regions, within which the direction of spontaneous polarization of each grain is aligned as closely as possible to some average direction. These regions, called polycrystalline macro-domains, may be of two types: (1) those with out-of-plane polarization and (2) those with in-plane polarization. In-plane macro-domains exhibit in-plane optical anisotropy which can be monitored using cross-polarized transmitted light. This property was utilized in the current work to study the influence of temperature variation on macro-domains. According to the temperature dependence of the intensity of cross-polarized transmitted light, the films could be divided into three groups: (group 1) those films that did not exhibit strong changes in intensity; (group 2) those that exhibited a strong and abrupt change at a temperature between 20 and 120 °C; and (group 3) those that upon heating exhibited a gradual increase in the intensity of the cross-polarized transmitted light. The observed changes were reversible and consistent with a 90° rotation of the
c
-axis of some grains, which caused reversible changes in the macro-domain structure.