02-01-2019 | Original | Issue 7/2019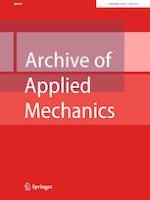 Exact analysis of imperfect angle-ply laminated panels with surface-bonded piezoelectric layers
Journal:
Authors:

Wei Yan, Tianbi Lv, Tingjie Lei, Junjing Zhi
Important notes
Publisher's Note
Springer Nature remains neutral with regard to jurisdictional claims in published maps and institutional affiliations.
Abstract
The electromechanical behavior of an angle-ply laminated plate in cylindrical bending with surface-bonded piezoelectric layers is investigated. The interlaminar bonding of this smart laminate is described by a Kelvin–Voigt viscoelastic model. Besides, a matrix reduction method is employed to construct the transfer relations between the piezoelectric layer and the elastic strip. Based on the state-space approach, a state differential equation of the interfacial sliding displacements with respect to time variable is derived, from which the exact solutions are obtained in the time domain. Comparison with the existing techniques validates the high efficiency and excellent accuracy of the present analysis. Furthermore, the numerical results indicate that the intelligent laminate may lose partly or completely the load-bearing capacity and the function of sensor/actuators with time elapsing because of the viscoelastic interfaces.