Published in: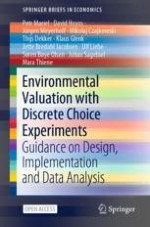 Open Access 2021 | OriginalPaper | Chapter
3. Experimental Design
Authors: Petr Mariel, David Hoyos, Jürgen Meyerhoff, Mikolaj Czajkowski, Thijs Dekker, Klaus Glenk, Jette Bredahl Jacobsen, Ulf Liebe, Søren Bøye Olsen, Julian Sagebiel, Mara Thiene
Published in: Environmental Valuation with Discrete Choice Experiments
Publisher: Springer International Publishing
Abstract
This chapter covers various issues related to the experimental design, a statistical technique at the core of a discrete choice experiment. Specifically, it focuses on the dimensionality of a choice experiment and the statistical techniques used to allocate attribute levels to choice tasks. Among others, the pros and cons of orthogonal designs, optimal orthogonal in the differences designs as well as efficient designs are addressed. The last section shows how a simulation exercise can help to test the appropriateness of the experimental design.