19-09-2019 | Issue 2/2020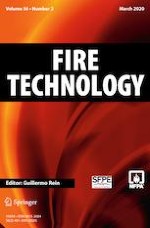 Experimental Investigation of Effect of External Side Wind on Fire Behaviors in a Corridor Connected to a Shaft
Journal:
Authors:

Luqing Zhu, Xiangyong Yuan, Zihe Gao, Jie Ji
Important notes
Publisher's Note
Springer Nature remains neutral with regard to jurisdictional claims in published maps and institutional affiliations.
Abstract
High-rise buildings are usually in a windy environment. The motion of fire-induced smoke and fire behaviors may be strongly affected by the external wind forces except by the stack effect. It turns out that wind with different directions and velocities can cause disparity in fire dynamics. Since most previous researches only focused on the cross wind conditions, this work investigated the effect of external side wind from 0 m/s to 1.21 m/s on the air flow behaviors, combustion characteristics of methanol pools and smoke temperature in a 1/6 scaled corridor connected to a 6-floor shaft. A remarkable observation is that the external side wind (parallel to top window, shown in Fig.
1
) leads to pressure attenuation inside building and induces air to flow inside through bottom door. Therefore, the smoke spreads faster under the synergic effects of side wind and stack effect. At the steady stage, the supplement air flow velocity increases with wind velocity but remains proportional to 1/3 power of HRR. An equation incorporating the wind effect is proposed to predict the air flow velocity. Results also show that compared to cross wind conditions, the mass loss rates of methanol pools increase at high wind velocities. The wind effect on smoke temperature is obvious in cases with small pools. Here, the temperature first increases to a peak value and then decreases with increased wind velocity. However, the temperature remains the same in cases with large pools within our wind velocity range. The temperature in the shaft is also correlated with mass loss rate and wind velocity. This work shows that external side wind would increase the fire hazard of buildings by contributing to the combustion and spreading of smoke. Thus engineers should consider the effect of side wind carefully when designing smoke control system.