01-12-2013 | Issue 4/2013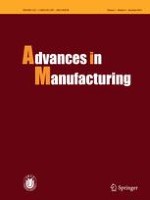 Experimental investigation on the effects of process parameters of GMAW and transient thermal analysis of AISI321 steel
Journal:
Authors:

A. G. Kamble, R. Venkata Rao
Abstract
Gas metal arc welding (GMAW) develops an arc by controlling the metal from the wire rod and the input process parameters. The deposited metal forms a weld bead and the mechanical properties depend upon the quality of the weld bead. Proper control of the process parameters which affect the bead geometry, the microstructures of the weldments and the mechanical properties like hardness, is necessary. This experimental study aims at developing mathematical models for bead height (
H
B
), bead width (
W
B
) and bead penetration (
P
B
) and investigating the effects of four process parameters viz: welding voltage, welding speed, wire feed rate and gas flow rate on bead geometry, hardness and microstructure of AISI321 steel with 10 mm thickness. The transient thermal analysis shows temperature and residual stress distributions at different conduction and convection conditions.