01-06-2015 | Research Article | Issue 6/2015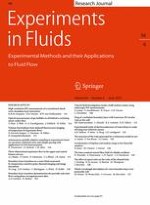 Experimental study of a three-dimensional cylinder–filament system
Journal:
Authors:

Nicolas Brosse, Carl Finmo, Fredrik Lundell, Shervin Bagheri
Abstract
This experimental study reports on the behavior of a filament attached to the rear of a three-dimensional cylinder. The axis of the cylinder is placed normal to a uniform incoming flow, and the filament is free to move in the cylinder wake. The mean position of the filament is studied as a function of the filament length
L
. It is found that for long (
L
/
D
\(>\)
6.5, where
D
is the cylinder diameter) and short (
L
/
D
\(<\)
2) filaments, the mean position of the filament tends to align with the incoming flow, whereas for intermediate filament lengths (2
\(<\)
L
/
D
\(<\)
6.5), the filament lies down on the cylinder and tends to align with the cylinder axis. The underlying mechanism of the bifurcations is discussed and related to buckling and inverted-pendulum-like instabilities.