03-05-2021 | Production Process | Issue 5/2021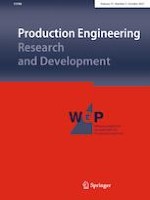 Experimental study of single grit scratch test on carbon fiber-reinforced polyether ether ketone
Journal:
Authors:

Mohammad Khoran, Bahman Azarhoushang, Amir Daneshi
Important notes
Publisher's Note
Springer Nature remains neutral with regard to jurisdictional claims in published maps and institutional affiliations.
Abstract
Carbon fiber-reinforced Polyether Ether Ketone is widely used in aerospace and medical industries due to its unique mechanical and physical properties. The use of CFR-PEEK in the industry is growing by replacing materials such as aluminum (in aerospace and mechanical industry), titanium, and stainless steel (in the medical industry). In this research, the grinding process of this material is studied through single grit scratch test, which is a common method to study the fundamentals of chip formation in the grinding process. In this method, one single grit as a representative of whole grinding wheel grits engages with the workpiece under the conditions identical to grinding. Investigating the corresponding phenomena during the abrasive-material engagement gives a better understanding of the grinding process. The experimental results showed that by increasing the cutting speed, vc, the specific energy, ec, increases. It is worth to mention that the minimum specific energy in maximum depth is converged to ec = 1.2 J/mm3. The portion of plowing and rubbing are reduced by a rise in the depth of cut. In low cutting depths, tangential force to normal force ratio is low and by an increment in depth, this ratio increases as well.