01-07-2020 | Original Article | Issue 14/2020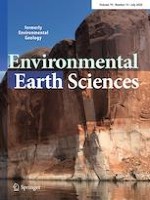 Experimental study on the failure law of water-bearing coal and the evolution of permeability under plastic flow
Journal:
Authors:

Jingna Guo, Jiangfeng Liu, Qiang Li, Zhanqing Chen
Important notes
Publisher's Note
Springer Nature remains neutral with regard to jurisdictional claims in published maps and institutional affiliations.
Abstract
During coal excavation, coal pillars can undergo shear failure due to repeated loading and unloading of mining-induced stress, and this failure may be followed by plastic flow. Change in the permeability of the coal pillar under plastic flow is closely related to the loading path. In this study, the development of the permeability of a coal seam under plastic flow was investigated by conducting permeability testing on a shear-yielded coal sample as it was subjected to cyclic loading and unloading. The results show that the permeability is inversely related to the volumetric strain; that is, the permeability decreases as the volume strain increases and vice versa. However, the permeability at a given strain value is greater during loading than that during unloading. The curve of strain and permeability will form an approximately elliptical hysteresis, and the permeability is a multi-valued function of volumetric strain. As the confining pressure is increased, crack opening decreases, and crack penetration moves from the ends toward the middle of the sample.