Published in: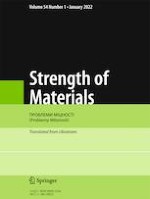 06-05-2022 | SCIENTIFIC AND TECHNICAL SECTION
Experimental Verification of the Averaged Strain Energy Density Criterion for Brittle Fracture in Blunt V-Notches under Pure Compression
Published in: Strength of Materials | Issue 1/2022
Login to get access
Abstract
The goal of the present study is to verify experimentally the Averaged Strain Energy Density (ASED) criterion for brittle fracture in blunt V-notches under pure compression. For this purpose, a set of experimental results recently published in the literature regarding the compressive fracture loads of the flattened V-notched semi-disk (FVSD) specimen made of PMMA are attempted to be theoretically predicted by means of the strain energy density averaged over a control volume which surrounds the notch round edge. Comparing the theoretical and experimental results reveals that the ASED criterion works suitably on brittle fracture of V-notches under pure compression.