16-02-2021 | Editorial | Issue 2/2021 Open Access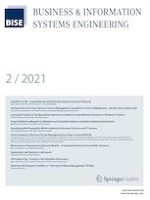 Expl(AI)n It to Me – Explainable AI and Information Systems Research
Authors:

Kevin Bauer, Oliver Hinz, Wil van der Aalst, Christof Weinhardt
1

Introduction

From a methodological point of view, the inability to provide an explanation that accompanies specific predictions creates three types of high-level problems.

Overcoming machine learning models' opacity and creating techniques that produce human-interpretable explanations whilst maintaining high predictive performance is not only a methodologically desirable objective. There are also immediate operational benefits from technological, social, economic, legal, and psychological perspectives. Specifically, model interpretability constitutes a binding constraint enabling (i) the optimization and debugging of models, (ii) the detection of inaccurate discriminatory patterns, (iii) the monitoring of continuous learning processes, (iv) the adoption of the technology by intended users, (v) accountability and responsibility, and (vi) users to harness models as teachers to enhance their knowledge and skills.
2

Interpretable Machine Learning
3

Relevance for BISE Research

Advances in the field of interpretable machine learning are indispensable to enable machine learning applications to better serve humanity. Therefore, the increasing interest and recent developments in the field are extremely welcome as well as promising. Yet, interpretable machine learning as a field is still in its infancy and requires more scrutiny and rigorous scientific research. Many important questions remain and need to be addressed in the future. Especially when it comes to the interaction between interpretable machine learning and human learning of new domain knowledge, arguably one of machine learning applications' most promising and until recently mostly overlooked benefits for humankind, research is lagging behind.

The versatility of requirements and consequences that the presence (or absence) of model interpretability entails for individual decision-makers on a micro-level and the entire society on a macro-level, predestines Information Systems researchers to focus on the field of interpretable machine learning. This makes it a highly relevant and meaningful field for BISE research, especially when considering that the interest in understanding the working mechanisms of machine learning models steadily grows for both academic and industrial communities. Based on the outlined considerations, the different BISE departments can and have a responsibility to contribute to the advancement of interpretable machine learning so that machine learning technologies can live up to their promise of ultimately enhancing human well-being.

There are manifold and urgent avenues of future research for Information Systems researchers in the field of interpretable machine learning:
User-centric model interpretation:

As one of the central research foci of Information Systems researchers is the design of interactive, user-centric technologies and how they affect individuals, organizations, and societies at large, one natural direction is the advancement of current interpretability techniques to meet user demands. The majority of current designs meet their developers' demands but not their ultimate users' demands, who are typically domain, yet no technical experts. Here Information Systems researchers can make a valuable contribution by taking over a lead role in identifying and implementing the demands of different types of end-users.

Feedback effects from interpretability techniques:

Working at the intersection of sociology, economics, psychology, and computer science, Information Systems researchers are particularly suited to study how the disclosure of machine learning application's inner workings to users may influence their behaviors in domains similar, however, not identical to the one where the machine augments their decision-making. It is crucial to understand whether, and if so how, interpretability techniques may fundamentally change users' beliefs and preference structure, thereby possibly creating unanticipated spillover effects with significant downstream consequences.

A Lucas' critique:

Along the lines of an argument by the Nobel laureate Robert Lucas from the 1970s, acting upon or immediately revealing insights about the functioning of a system will likely cause the system's functioning to change and thereby render previous insights mute. The European Union's General Data Protection Regulation already stipulates that algorithmic systems' targets have a right to information. If the disclosure of high-performing machine learning models' inner workings by means of interpretability techniques to targets entail such consequences, the broad adoption of interpretable machine learning methods may create endogenous concept drifts. Examining the existence of such side-effects of model interpretability and how to mitigate them constitutes a fruitful avenue for future research.
This list is by no means exhaustive and only represents a fraction of research directions that Information Systems researchers may adopt. Yet, it emphasizes the important role that BISE research can play.
Open Access
This article is licensed under a Creative Commons Attribution 4.0 International License, which permits use, sharing, adaptation, distribution and reproduction in any medium or format, as long as you give appropriate credit to the original author(s) and the source, provide a link to the Creative Commons licence, and indicate if changes were made. The images or other third party material in this article are included in the article's Creative Commons licence, unless indicated otherwise in a credit line to the material. If material is not included in the article's Creative Commons licence and your intended use is not permitted by statutory regulation or exceeds the permitted use, you will need to obtain permission directly from the copyright holder. To view a copy of this licence, visit
http://​creativecommons.​org/​licenses/​by/​4.​0/​
.