Published in: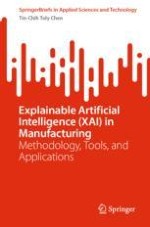 2023 | OriginalPaper | Chapter
1. Explainable Artificial Intelligence (XAI) in Manufacturing
Abstract
This chapter begins by defining explainable artificial intelligence (XAI). A procedure for implementing XAI was also established. Then, through literature analysis, the application of XAI in various fields such as medicine, service, education, finance, medical treatment, manufacturing, food, and military is compared. Some representative cases in these fields are also reported. Subsequently, several applications of XAI in the field of manufacturing are reviewed, including explaining the classification process and results of factory jobs, explaining artificial neural network (ANN)-based cycle time prediction methods, comparing the effect of alloy composition using Shapely additive explanation value (SHAP) analysis, etc.