04-05-2019 | Review | Issue 3/2019 Open Access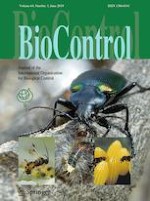 Exploration for candidate biological control agents of the submerged aquatic weed
Hydrilla verticillata

, in Asia and Australia 1996–2013
Journal:
Authors:

Matthew Purcell, Nathan Harms, Michael Grodowitz, Jialiang Zhang, Jianqing Ding, Greg Wheeler, Ryan Zonneveld, Roch Desmier de Chenon
Important notes
Handling Editor: S. Raghu
Abstract
Monoecious and dioecious forms of the submerged aquatic plant hydrilla,
Hydrilla verticillata
(Linn. f.) Royle (Hydrocharitaceae) are invasive weeds in the US. Surveys for biological control agents of hydrilla throughout its native range have been conducted since the 1970s. Surveys between 1996 and 2013 focused on China, Southeast Asia and Australia, with 425 collections of hydrilla made in seven countries. Most of the herbivores collected were typical of previous surveys and included three main feeding guilds and taxonomic groups: stem-boring
Bagous
weevils, leaf-mining Ephydridae flies and defoliating Crambidae moths. Preliminary testing of prioritized agents collected from 1996 to 2013 did not reveal candidates for use as biological control agents with those tested being polyphagous. Further surveys are currently in China and South Korea, where hydrilla forms/genotypes exist that match those found in the US.