17-03-2018 | Special Issue 2/2019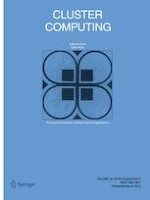 Exploration of polygons in online social networks
Journal:
Authors:

Xiaoping Zhou, Xun Liang, Jichao Zhao, Aakas Zhiyuli, Haiyan Zhang
Abstract
Online social networks have continued to attract increased attention since the introduction of this concept nearly three decades ago. Consequently, a study about the workings of online social networks may help in understanding the structure of human society and the characteristics of generic complex networks. Over the past few years, interest in neighboring nodes, which are the number of nodes between any two nodes, the number of neighbors and how many triangles are present in a social network have produced the concepts of a six-degree separation (Milgram, Psychol Today 2(1):60–67, 1967; Backstrom et al., Proceedings of the 4th annual ACM web science conference, p 33–42, 2012), a heavy tail in the degree distribution (Barabási, Albert, Science 286(5439):509–512, 1999) and a high clustering coefficient (Luce, Perry, Psychometrika 14(2):95–116, 1949; Watts, Strogatz, Nature 393(6684):440–442, 1998; Amaral et al., Proc Natl Acad Sci USA 97(21):11149–11152, 2000). In a similar manner, researchers have also been curious about how many polygons are present in a given online social network. Although much effort has been expended (Dantzig et al., International symposium on theory of graphs, p 77–83, 1967; Kamae, IEEE Trans Circuit Theory 14(2):166–171, 1967; Gotlieb, Corneil, Commun ACM 10(12):780–783, 1967; Welch, J ACM 13(2):205–210, 1966; Tiernan, Commun ACM 13(12):722–726, 1970; Tarjan, SIAM J Comput 2(3):211–216, 1973; Johnson, SIAM J Comput 4:77–84, 1975; Mateti, Deo, SIAM J Comput 5(5):90–99, 1976; Marinari et al., Europhys Lett 73(3):301–307, 2005), studying this subject, the inability to enumerate polygons has stymied an in depth understanding of the properties of polygons in an online social network. In the study described in this paper, the estimated number of polygons in an online social network is revealed. It was found that in the current widely used online social networks, e.g., Facebook, Twitter, the number of polygons increases drastically when the length of a polygon is below a set value and then it decreases rapidly. The average length of the network polygons was calculated and it was found that online social networks contain a relatively large average length of polygons. Based on this perspective, a massive labyrinth of polygons would make the online social networks appear to be very complicated. To further investigate this area, a generalized clustering coefficient was explored. Results showed that the generalized clustering coefficient appeared to descend exponentially with the length of polygon and expeditiously approached zero. This result suggested that the polygons with large lengths should be ignored in many scenarios. Since the polygons with lengths greater than five appeared to have little impact on the network, the online social networks appeared to be less complex than anticipated. The polygon is one of the fundamental problems in graph theory and complex networks, so that the work reported here may be beneficial for many disciplines, including transportation [
7
], engineering [
8
], computer science [
9
–
16
], physics (Birmelé et al., Proceedings of the 24th annual ACM–SIAM symposium on discrete algorithms, p 1884–1896, 2013), sociology (Motter, Albert, Phys Today 65:43, 2012), epidemiology (Feld, Am J Sociol 96(6):1464–1477, 1991; Cohen et al., Phys Rev Lett 91(24):12343, 2002), psychology (Sun et al., Sci Rep 4(6188):5099–5099, 2014), biology (Feiler, Kleinbaum, Psychol Sci, 2015), medicine (Kincaid, Pilette, Comput Appl Biosci Cabios 8:267–273, 1992), geography (Kim et al., Lancet 386(9989):145–153, 2015), etc.