07-12-2018 | Forum | Issue 4/2019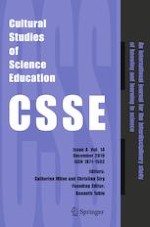 Extending Tobin's mindfulness in education
Author:

Richard Cleveland
Important notes
Lead Editor: Alejandro J. Gallard Martínez.
This review addresses issues raised in Kenneth Tobin's special issue in the journal Learning: Research and Practice.
Abstract
A special issue of
Learning: Research and Practice
dedicated to mindfulness is summarized with the assertion that the contributions illustrate a perspective for successful mindfulness scholarship. Specifically, definitional components of mindfulness practice are just as essential for mindfulness scholarship. After a review of the special issue, this perspective for mindfulness scholarship is presented, and the article closes with two examples of mindfulness scholarship aligned with the 3-component framework of intention, awareness, and non-judgment.