18-11-2019 | Issue 1/2020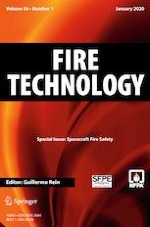 Extinguishing Characteristics of a Pool Fire with a Rubber Balloon Filled with Inert Gases
Journal:
Author:

Hiroyuki Torikai
Important notes
Publisher's Note
Springer Nature remains neutral with regard to jurisdictional claims in published maps and institutional affiliations.
Abstract
In this study, an extinguishing method using a rubber balloon filled with inert gas is proposed against fires in confined space such as spacecraft and space station. The proposed method has a possibility to increase extinguishing effectiveness of inert gas and decrease its volume amount needed for firefighting. In order to clarify the extinguishing characteristics, the blowoff experiments have been performed under normal gravity condition. CO
2
, N
2
, Ar and Ar + N
2
mixture gases were used as an extinguishing gas and ethanol, 1-butanol and
n
-heptane were used to form a pool fire. The fuel pan diameters were varied from 47 mm to 94 mm. From the experimental results, it is found that there exists the extinguishment limit, which indicates the minimum inert gas volume needed for achieving flame extinguishment with the rubber balloon. By using the magnitude of the extinguishment limit value, the extinguishing ability of inert gas in the rubber balloon extinguishment can be evaluated. As a result, the effectiveness ranking of the inert gas in rubber balloon extinguishment agrees well with that of cup-burner tests. Moreover, it is found that when the size of the pool fire (fuel pan diameter) is same, the value of the lower heating value of fuel divided by the inert gas heat capacity at the extinguishment limit shows a certain constant value independent of inert gas and fuel species. As a result, the extinguishment limit of the rubber balloon extinguishing method is considered to be determined due to the balance between the heat release rate of the pool fire and the heat absorption rate of inert gas released from the bursting balloon. Thus, a rubber balloon can be used as an extinguishing capsule, by which a high concentration inert gas is easily delivered to the flame. In addition, it is much easier to grasp heat capacity effect of inert gas on flame extinguishment than the conventional methods, such as the cup-burner test.