06-02-2019 | Original Research | Issue 5/2019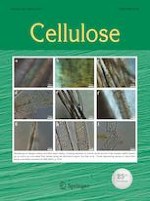 Fabrication of pillar[5]arene-polymer-functionalized cotton fibers as adsorbents for adsorption of organic pollutants in water and volatile organic compounds in air
Journal:
Authors:

Jincheng Cheng, Li Li, Yifan Li, Qiang Wang, Chiyang He
Important notes
Electronic supplementary material
Publisher's Note
Springer Nature remains neutral with regard to jurisdictional claims in published maps and institutional affiliations.
Abstract
A new type of pillar[5]arene-polymer-functionalized cotton fibers was prepared with tetrafluoroterephthalonitrile (TFP) grafted first on the fiber surface and then the pillar[5]arene-TFP polymer grafted subsequently. The obtained functionalized fibers (P5A-TFP@cotton) were characterized by scanning electron microscope, X-ray photoelectron spectra, infrared spectra, 13C CP/MAS nuclear magnetic resonance spectra, and thermo-gravimetric analysis. The P5A-TFP@cotton captured organic pollutants from water with fast kinetics (with equilibrium time of 2 min for MB) and much higher adsorption capacity (4.5 times higher for bisphenol A) than the untreated cotton. The functionalized fibers also adsorbed the environmental-concentration styrene vapor rapidly to a concentration much lower than the limit of the U.S. Occupational Safety and Health Administration within 5 min. The P5A-TFP@cotton showed much higher adsorption ability for various high-concentration volatile organic compounds (VOCs) than the untreated cotton. Moreover, the P5A-TFP@cotton can be easily regenerated and presented good reusability for capturing organic pollutants in water and VOCs in air after simple treatment. The new adsorbent can be utilized in the form of fibers or fabrics for conveniently capturing organic pollutants in water and VOCs in air. These properties make the P5A-TFP@cotton of interest as adsorbent or filter membrane for water purification, air deodorization and detoxification. This methodology can be expanded to the functionalization of other textile fibers or fabrics.
Graphical abstract
×