07-05-2021 | Composites & nanocomposites | Issue 23/2021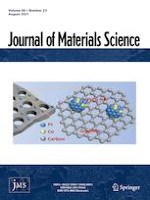 Facile fabrication of luminescent rare-earth-doped PS/AA composites for anti-counterfeiting applications
Journal:
Authors:

Qing Wang, Dong Xie, Junjia Chen, Guang Liu, Mingguang Yu
Important notes
Handling Editor: Yaroslava Yingling.
Publisher's Note
Springer Nature remains neutral with regard to jurisdictional claims in published maps and institutional affiliations.
Abstract
Herein, a facile method to develop luminescent PS/AA/Rare-Earth-doped composites was presented. The PS/AA microspheres were first carried out via one-pot dispersion polymerization. Then, the PS/AA microspheres bearing free carboxyl groups were used as templates for surface chemical deposition of rare earth ions forming lanthanide-based nanocrystal-doped PS/AA composites. The morphologies and structures of resulting composites were characterized by SEM, TEM, FT-IR, TGA, and XPS. The photoluminescence properties of the composite microspheres were also investigated. By adjusting the amount of AA, the fluorescence intensity could be well-controlled. After blending with PVA into ink, the obtained PS/AA/Rare-Earth-doped composites possessed good fluorescence stability. The facile synthesis method introduced here has the advantages of mass production of security ink with fluorescent stability for anti-counterfeiting purposes.