31-01-2019 | Original Research | Issue 5/2019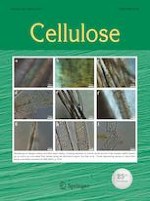 Facile preparation of reactive hydrophobic cellulose nanofibril film for reducing water vapor permeability (WVP) in packaging applications
Journal:
Authors:

Wei Li, Shuangfei Wang, Wei Wang, Chengrong Qin, Min Wu
Important notes
Publisher's Note
Springer Nature remains neutral with regard to jurisdictional claims in published maps and institutional affiliations.
Abstract
Due to energy crisis and environmental pollution, biopolymer-based packaging materials have been extensively investigated. Cellulose nanofibrils (CNFs), due to their good oxygen barrier performance and excellent mechanical as well as film-forming properties, have emerged as interesting packaging materials. However, the problem of the resulting films is the highly hygroscopic character of the cellulose fibers themselves, which would further lead to a decrease of the films' mechanical and barrier properties. Herein, a facile preparation of hydrophobic CNF films was carried out by the attachment of 10-undecylenoyl chloride onto CNFs followed by vacuum filtration. The modified CNFs became thicker and rougher compared with the pristine CNFs and were easy to disperse in ethanol. The resulting CNF film showed a higher surface roughness and a tensile strength of (47 ± 4) MPa. Additionally, the modified CNF film was hydrophobic, leading to an obvious barrier improvement with the WVP value decreasing by 62.4% in comparison to the pristine CNF film. Since this hydrophobic CNF film is easy to prepare with a good vapor barrier property, it should be promising for packaging applications. Furthermore, the generated CNF film demonstrated good reactivity with thiol groups, which can be applied for further functionalization to enrich their application fields.
Graphical abstract
×