15-01-2020 | Issue 1/2020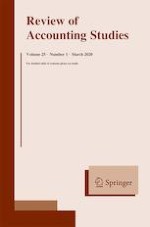 Family entrenchment and internal control: evidence from S&P 1500 firms
Journal:
Authors:

Xia Chen, Mei Feng, Chan Li
Important notes
Publisher's note
Springer Nature remains neutral with regard to jurisdictional claims in published maps and institutional affiliations.
Abstract
\We examine whether family owners exploit internal control weaknesses for entrenchment purposes and whether the public disclosure requirement under SOX 404 helps alleviate this entrenchment. We find supportive evidence for both questions. In the initial years of SOX 404 implementation (2004 and 2005), ineffective internal control in family CEO firms is more conducive to entrenchment – measured by the occurrence of misstatements, frauds, and related party transactions – than ineffective internal control in nonfamily firms is. With the public disclosure requirement of SOX 404 in place, family CEO firms are more likely to remediate internal control weaknesses, and the resulting improvement in internal control in family CEO firms has significantly reduced family entrenchment. Our findings provide new evidence on the dynamics of family entrenchment in the U.S. and shed light on a key benefit of public disclosure of internal control quality.