08-09-2020 | Issue 1/2021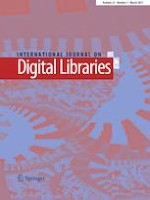 Feature selection for classifying multi-labeled past events
Authors:

Yasunobu Sumikawa, Ryohei Ikejiri
Important notes
Publisher's Note
Springer Nature remains neutral with regard to jurisdictional claims in published maps and institutional affiliations.
Abstract
The study and analysis of past events can provide numerous benefits. While event categorization has been previously studied, it usually assigned only one event category to an event. In this study, we focus on multi-label classification for past events, which is a more general and challenging problem than those approached in previous studies. We categorize events into thirteen different types using a range of diverse features and classifiers trained on a dataset that has at least 50 labeled news articles for each category. We have confirmed that using all the features to train classifiers has statistical significance and improves all micro- and macro-average
\(F_1\)
, multi-label accuracy, average precision@5, area under the receiver operating characteristic curve and example-based loss functions.