2015 | OriginalPaper | Chapter
Feature-Specific Profiling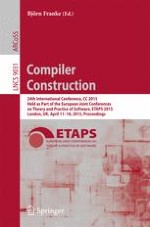 Read first chapter
Authors: Vincent St-Amour, Leif Andersen, Matthias Felleisen
Publisher: Springer Berlin Heidelberg
High-level languages come with significant readability and maintainability benefits. Their performance costs, however, are usually not predictable, at least not easily. Programmers may accidentally use high-level features in ways that compiler writers could not anticipate, and they may thus produce underperforming programs as a result.
This paper introduces
feature-specific profiling
, a profiling technique that reports performance costs in terms of linguistic constructs. With a feature-specific profiler, a programmer can identify specific instances of language features that are responsible for performance problems. After explaining the architecture of our feature-specific profiler, the paper presents the evidence in support of adding feature-specific profiling to the programmer's toolset.