2019 | OriginalPaper | Chapter
3. Financial Strategies to Accelerate Green Growth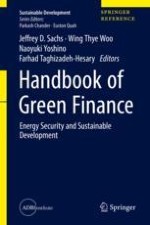 Read first chapter
Author: Hee Jin Noh
Publisher: Springer Singapore
Abstract
Green growth brings about economic development and environmental enhancement simultaneously. In order to support green growth financially, the green finance sector needs to be developed.
Funding and investment mechanisms of green finance differ from those of non-green finance because green finance needs to consider environmental value in the financial activities.
Public finance plays an important but limited role in supporting green growth because a huge amount of money is needed. Therefore, the role of private finance is essential. However, under the current private financial mechanisms, the green field is difficult to invest in because the risk and return profile is different from those of traditional industries. Therefore, green finance is needed. This chapter suggests strategies for developing green finance. These strategies include improving rules and regulations of green finance to encourage green growth, establishing green financial institutions, utilizing the Green Climate Fund, designing a code of conduct in green finance, developing new green financial products, integrating a global cooperative system, and setting up infrastructure.