01-02-2017 | Thematic Issue | Issue 3/2017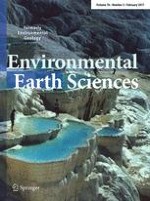 Finding harmony between the environment and humanity: an introduction to the thematic issue of the Silk Road
Journal:
Authors:

Peiyue Li, Hui Qian, Wanfang Zhou
Important notes
This article is a part of a Topical Collection in Environmental Earth Sciences on "Advances of Research in Soil, Water, Environment, and Geologic Hazards Along the Silk Road" guest edited by Drs. Peiyue Li, Hui Qian and Wanfang Zhou.
Abstract
The Silk Road initiative is both exciting and controversial, as it may bring environmental degradation and water resources concerns, and at the same time it promotes swift economic growth in poverty-stricken areas along the Silk Road. Finding a balance between environmental protection and economic growth is the motivation for publishing this thematic issue. The Guest Editors introduce the background of the Silk Road in this editorial and the papers included in this thematic issue. These studies represent only some preliminary efforts toward establishing the harmonious relationships required to address these issues and to encourage further investigations.