Published in: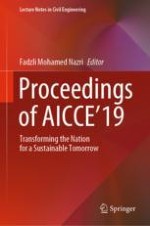 2020 | OriginalPaper | Chapter
Finite Element Analysis on Torsion Behaviour for Tapered Steel Section with Perforation
Abstract
A study of finite element analysis (FEA) on torsion behaviour for tapered steel section with perforation is presented in this paper. The attention was paid mainly to firstly determine the effect of the perforation on the torsion behaviour of tapered steel section and to know an optimal section of tapered steel section with perforation under torsion loading based on the results obtained from FEA of LUSAS software. Five (5) variables such as opening shape, web thickness and flange thickness were identified and analysed to know the effect on torsional rotation of tapered steel section. A total of one hundred and twenty (120) of finite element (FE) models were than employed in this analysis including tapered steel section without perforation. The results were expressed in terms of displacement and torsional resistance (TR). Based on the analysis result, it was clearly showed that there was no improvement on the engineering properties and performance of tapered steel section with perforation in term of TR. The presence of web opening will result in reduction of TR. It is concluded that all of the variables will affect the TR. In addition, weight was reduced as the material volume was reduce with the present of perforation.