01-04-2021 | Issue 4/2021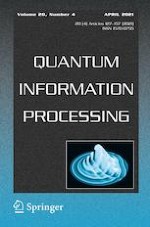 Finite-key analysis of sending-or-not-sending twin-field quantum key distribution with intensity fluctuations
Journal:
Authors:

Yi-Fei Lu, Yang Wang, Mu-Sheng Jiang, Fan Liu, Xiao-Xu Zhang, Wan-Su Bao
Important notes
Publisher's Note
Springer Nature remains neutral with regard to jurisdictional claims in published maps and institutional affiliations.
Abstract
Sending-or-not sending twin-field quantum key distribution (SNS TF-QKD) removes the remaining security loopholes in original TF-QKD and can tolerate large misalignment errors. However, finite-key effects and intensity fluctuations of the photon sources would compromise its performance by lowering the secret key rate and then limiting the communication distance. In this paper, we present a method to estimate the lower bound of single-photon states yield for practical four-intensity decoy-state SNS TF-QKD. Based on this, we give a finite-key analysis without and with intensity fluctuations using improved Chernoff bound and Azuma's inequality, respectively. Our simulation results show that both statistical and intensity fluctuations have a non-negligible effect on the performance of SNS TF-QKD and the effect of intensity fluctuations varies dramatically with different states. More precisely speaking, it is robust to the intensity fluctuations of the states with strong intensity while sensitive to the states with weak intensity. Our results emphasize that it is more significant to keep the stability of the weak states which could be modified in experiments with intensity modulators.