23-06-2020 | Original Research | Issue 13/2020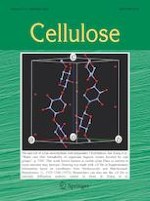 Fire retardancy and thermal behaviors of Cellulose nanofiber/zinc borate aerogel
Journal:
Authors:

Xudong Cheng, Siyu Zhu, Yuelei Pan, Yurui Deng, Long Shi, Lunlun Gong
Important notes
Electronic supplementary material
Xudong Cheng and Siyu Zhu authors contributed equally to this work and should be considered co-first authors.
Publisher's Note
Springer Nature remains neutral with regard to jurisdictional claims in published maps and institutional affiliations.
Abstract
Cellulose nanofiber (CNF)/zinc borate (ZB) aerogels were successfully prepared via a facile and simple freeze-drying method. The thermal and combustion behavior of synthesized CNF aerogels and CNF/ZB aerogels were systematically investigated via various experimental techniques, including TGA-DTG analysis, micro-scale combustion calorimetry, cone calorimeter, etc. It was known that the CNF aerogels mainly undergo smoldering combustion. The flame retardancy of CNF aerogels was observed remarkably improved with the introduction of ZB, where the formed carbon layer at the sample surface can prevent heat penetration. It was known from micro-scale calorimeter (MCC) test that the burning of CNF/ZB could not last over 20 s, where peak heat release rate and total heat release decrease by 35.1% and 16.3%, respectively, after 2 wt% ZB was added. Meanwhile, the presence of ZB did not affect the porous structure of CNF, which can be proved by the slightly increased thermal conductivity from 0.0276 to 0.0298 W/m K. Flame retardancy of ZB shows its advantages for cellulose aerogels as the improved flame retardancy by ZB will not compromise its original thermal insulation function. The research outcomes of this study provide a new insight for the flame retardancy of cellulose aerogels.
Graphic abstract
×