07-09-2016 | Original Paper | Issue 6-7/2017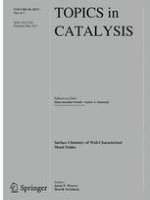 First Principles Study of Molecular O2 Adsorption on the PdO(101) Surface
Journal:
Authors:

Li Pan, Jason F. Weaver, Aravind Asthagiri
Important notes
Electronic supplementary material
The online version of this article (doi:
10.​1007/​s11244-016-0705-9
) contains supplementary material, which is available to authorized users.
Abstract
Interactions of O
2
with the PdO(101) surface were studied using spin-dependent density-functional theory (DFT) with both the PBE and the non-local hybrid HSE exchange–correlation functional. The adsorption energies are strongly overestimated (by 40–60 kJ/mol) with PBE, whereas HSE predicts adsorption energies that are within ~5 kJ/mol of values derived from temperature programmed desorption (TPD) experiments. A detailed partial density of states analysis indicates that the band gap between the PdO
d
-band center and the LUMO of O
2
plays an important role in determining the adsorption strength. This gap is larger for the HSE functional and leads to a decrease in the back donation of the metal
d
-states to the O
2
LUMO orbital resulting in weaker adsorption. Based on the DFT–HSE calculations, three adsorption minima are found to be stable. The most favored configuration, with an adsorption energy of −67 kJ/mol, consists of an O
2
molecule lying flat and interacting with two coordinatively unsaturated Pd (Pd
cus
) surface atoms. The other two configurations have weaker adsorption energies of about −25 kJ/mol and bind to a single Pd
cus
atom with the O
2
molecule oriented away from the surface. The HSE results can be correlated with the observed TPD spectra, which shows only one type of O
2
configuration at low coverages with a subsequently lower temperature (more weakly bound) peak evolving at higher coverages associated with the singly coordinated O
2
adsorption configurations that start to populate when two adjacent Pd
cus
sites start to become unavailable.