2019 | OriginalPaper | Chapter
Flash Flood Forecasting Based on Rainfall Thresholds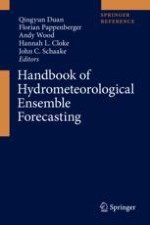 Read first chapter
Authors: Lorenzo Alfieri, Marc Berenguer, Valentin Knechtl, Katharina Liechti, Daniel Sempere-Torres, Massimiliano Zappa
Publisher: Springer Berlin Heidelberg
Abstract
Extreme rainstorms often trigger catastrophic flash floods in Europe and in several areas of the world. Despite notable advances in weather forecasting, most operational early warning systems for extreme rainstorms and flash floods are based on rainfall observations derived from rain gauge networks and weather radars, rather than on forecasts. As a result, warning lead times are bounded to few hours, and warnings are usually issued when the event is already taking place.
This chapter illustrates three recently developed systems that use information on observed and forecasted precipitation to issue flash flood warnings. The first approach is an indicator for heavy precipitation events, developed to complement the flood early warning of the European Flood Awareness System (EFAS) and targeted to short and intense events, possibly leading to flash flooding in small catchments. The system is based on the European Precipitation Index Based on Simulated Climatology (EPIC), which in EFAS is computed using COSMO-LEPS ensemble weather forecasts and a 20-year consistent reforecast dataset.
The second system is a flash flood early warning tool developed based on precipitation statistics. A total of 759 sub-catchments in southern Switzerland is considered. Intensity-duration-frequency (IDF) curves for each catchment have been calculated based on gridded precipitation products for the period 1961–2012 and gridded reforecast of the COSMO-LEPS for the period 1971–2000. The different IDF curves at the catchment level in combination with precipitation forecasts are the basis for the flash flood early warning tool. The forecast models used are COSMO-2 (deterministic, updated every 3 h and with a lead time of 24 h) and COSMO-LEPS (probabilistic, 16-member and with a lead time of 5 days).
The third system (FF-EWS) uses probabilistic high-resolution precipitation products generated from the observations of the weather radar network to monitor situations prone to trigger flash floods in Catalonia (NE Spain). These ensemble precipitation estimates and nowcasts are used to calculate the basin-aggregated rainfall (that is, the rainfall accumulated upstream of each point of the drainage network), which is the variable used to characterize the potential flash flood hazard.
Examples of successful and less skilful forecasts for all three systems are shown and commented to highlight pros and cons.