21-03-2019 | Issue 8/2019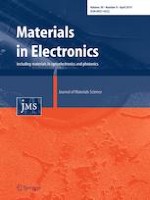 Flexible supercapacitor electrode with high performance prepared from graphene oxide films assembled in the presence of
p

-phenylenediamine and urea
Authors:

Yunzhen Chang, Sisi Xia, Gaoyi Han, Haihan Zhou, Dongying Fu, Hua Song, Yaoming Xiao, Ying Zhang
Important notes
Electronic supplementary material
Publisher's Note
Springer Nature remains neutral with regard to jurisdictional claims in published maps and institutional affiliations.
Abstract
The flexible reduced graphene oxide (rGO) films are prepared by treating the graphene oxide (GO) films assembled in the presence of urea and
p
-phenylenediamine (PPD) with hydroiodic acid firstly and then heating at 165 °C. The addition of urea can overcome the aggregation of GO sheets induced by the PPD, and the formed microcrystallines of urea and PPD can act as the templates to regulate the structure of GO films during the drying process. Compared with the rGO films obtained from pure GO films, measurements based on the two-electrode system reveal that the capacitive performance of the films can be dramatically improved when the GO films are assembled in the presence of urea and PPD. The selected flexible film exhibits a specific capacitance of about 430 F g
−1
in 1.0 mol L
−1
H
2
SO
4
electrolyte, and the cells fabricated by the films exhibit a maximum energy density of 8.96 Wh kg
−1
at the power density of 100.42 W kg
−1
, and maximum power density of 1.70 kW kg
−1
at the energy density of 7.92 Wh kg
−1
based on the active materials, and can retain about 85% of its initial capacitance after 10,000 cycles. This novel strategy may be developed as a route to prepare flexible N-doped rGO electrode materials with high-performance.