29-07-2020 | Issue 11/2020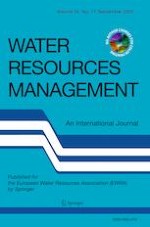 Flood Frequency Analysis of Interconnected Rivers by Copulas
Journal:
Authors:

Esmaeel Dodangeh, Vijay P. Singh, Binh Thai Pham, Jiabo Yin, Guang Yang, Amirhosein Mosavi
Important notes
Publisher's Note
Springer Nature remains neutral with regard to jurisdictional claims in published maps and institutional affiliations.
Abstract
Flood frequency analysis (FFA) considering the confluence of interconnected rivers is important for hydraulic structures (such as dams or diversions
)
design, but it has received little attention. This study develops a copula-based method for FFA and quantile estimation considering the confluence of two interconnected rivers, along with the uncertainty estimation by a nonparametric bootstrapping algorithm. Flood probability distribution and return periods are estimated for the two rivers by mapping from bivariate to univariate peak flow quantile estimation. The methodology is applied to the case study of Qezel Ozan and Shahrud Rivers which merge to one of the largest reservoir dams in Iran: Sefidrud (Manjil) dam. According to the results from Peak flow records from Gilvan station (GPF) at Qezel Ozan River and from Loshan station (LCF) at Shahrud River, Gaussian copula with Weibull and gamma margins fits best. Also, it shows that some peak flow quantiles with the same magnitudes have a different probability of occurrences at the confluence of the rivers, and the bivariate estimation uncertainty usually plays an important role in FFA. These findings suggest the use of bivariate instead of univariate distributions to the peak flows at the confluence of interconnected rivers, in which the sampling uncertainty should be considered.