27-02-2018 | Original Paper | Issue 9/2018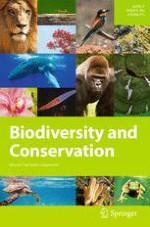 Flower-strip agri-environment schemes provide diverse and valuable summer flower resources for pollinating insects
Journal:
Authors:

Pierre Ouvrard, Julie Transon, Anne-Laure Jacquemart
Important notes
Communicated by David Hawksworth.
Electronic supplementary material
Abstract
The diversity and abundance of insect pollinators are declining. This decline reduces the potential ecosystem services of pollination for wild and cultivated plants. Specific agri-environment schemes (AES) are subsidised to support and conserve biodiversity in farmlands. In Belgium, the pollinator flower-strips AES, strips of flower-rich hay meadows, has been promoted as a potential scheme to increase pollinator abundance and diversity, even if their effectiveness has not been locally evaluated. The main objective of this research is to assess the capacity of pollinator-strip AES to provide flower-resources to diverse pollinators. During 2 years, we monthly measured the availability of flower resources (pollen and nectar) produced on four flower-strips surrounded by intensive farming in Belgium. We counted and identified insects that visited these flowers, and we constructed the plant–insect interactions networks. The pollinator-strip AES presented a mix of both sown and spontaneous plant species. The ten sown plant species were all present, even after 8 years of strip settings. Three of them,
Centaurea jacea, Lotus corniculatus
, and
Daucus carota
were mainly visited for nectar collection, and a spontaneous non-sown species,
Trifolium repens
, had a key role in providing high-quality pollen to insects. Most of the observed flower-visiting insects belonged to common species of Hymenoptera and Diptera. All are considered highly efficient pollinators. The Belgian pollinator flower-strips are effective AES that provide flower resources to pollinators, mainly during summer and support pollination services. Nevertheless, spring and autumn flower resources remain poor and could reduce the strips' effectiveness for supporting long-term insect diversity.