Published in: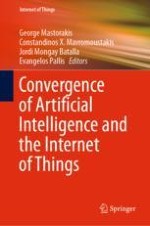 2020 | OriginalPaper | Chapter
Fog Computing: Data Analytics for Time-Sensitive Applications
Abstract
Fog computing has been initiated to reduce communications delays between users and cloud systems. The idea of Fog computing allows users to interact with intermediate servers, while reaping the benefits of reliability and elasticity, which are inherent in cloud computing. Fog computing can leverage Internet of Things (IoT) by providing a reliable service layer for time-sensitive applications and real-time analytics. While the concept of fog computing is still evolving, it is pertinent to study the domain of fog computing and analyze its strengths and weaknesses. Motivated by this need, this chapter describes the architecture of fog computing and explain its efficacy with respect to different applications. The chapter highlights some of the key challenges associated with this evolving platform along with future directions of research.