29-01-2021 | Issue 5/2021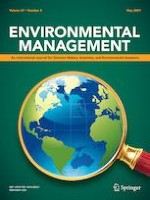 Forest Cover Change and Ecosystem Services: A Case Study of Community Forest in Mechinagar and Buddhashanti Landscape (MBL), Nepal
Journal:
Authors:

Sushila Rijal, Kuaanan Techato, Saroj Gyawali, Nigel Stork, Megh Raj Dangal, Sutinee Sinutok
Important notes
Supplementary Information
Publisher's note
Springer Nature remains neutral with regard to jurisdictional claims in published maps and institutional affiliations.
Abstract
The community-based forest management program has been successful in the conservation of forest cover in Nepal. We investigated forest cover change for the Mechinagar and Buddhashanti Landscape (MBL) area within the Jhapa district, Nepal, during 1990–2019 using Landsat images and GIS tools and valuated the major ecosystem services (ES) of Kalika Community-managed Forest (KCF) within the MBL landscape using the economic approach–market price method (revealed price). Land cover analysis of the MBL area indicated that over the study period, there were increases in urban/built-up areas, forest, and tea plantations, and declines in cultivated land, shrub, barren land, water body, and grassland areas. In particular, forest cover increased by 8.6% from 41.5 sq.km to 45.1 sq.km, due to the conversion of 3.9 sq.km cultivated land and 2.4 sq.km shrub into forest cover. KCF, the selected case study area for ES valuation, has been successful in providing noticeable economic benefits from provisioning and cultural services. Of the provisioning services, wood and timber make the largest contribution with an average revenue collection of Nepali Rupees (NRs) 3091.4 thousands followed by non-timber forest products (NRs 883.1 thousands) and firewood (NRs 524.3 thousands), respectively, while ecotourism-based income is also important (NRs 458.4 thousands) and is increasing in later years. As monitoring forest cover in a rapidly changing landscape and evaluating the ES of the community-managed forest cover are imperative for sustainable environmental planning and policy formulation, these research outputs are expected to be a significant benchmark for planners, policy makers, and future researchers.