23-08-2016 | Issue 11/2016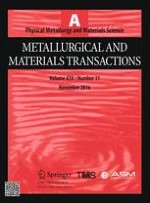 Formation of Intermetallic Compounds During Explosive Welding
Authors:

Bella A. Greenberg, Mikhail A. Ivanov, Mark S. Pushkin, Alexei V. Inozemtsev, Alexander M. Patselov, Anatoliy P. Tankeyev, Sergey V. Kuzmin, Vladimir I. Lysak
Important notes
Manuscript submitted January 13, 2016.
Abstract
Transition states between traditional,
i.e.
, plain and wavy, shapes of the interface during explosive welding were studied. A sequence of the transition states was found for the studied copper-titanium and copper-tantalum joints. Some transition states are common for the joints under study, while others are only typical of the copper-titanium joints, due to sufficiently high solubility of original elements. A transition state has been found, during which cusps, even though they are solid phase, look like splashes on the water. The key role of these splashes is that they evidence the lower boundary of the 'weldability window.' The study found certain self-organization processes of the cusps that cause them to turn into a quasi-wavy shape of the interface, and then, as the welding mode is intensified, into a wavy shape. The role of intermetallic compounds was analyzed, due to which a wave only consists of cusps in case mutual solubility of original metals is sufficiently high.