01-06-2015 | Research Article | Issue 2/2015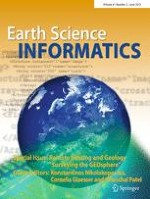 Fractal and multifractal characteristic of spatial pattern of urban impervious surfaces
Journal:
Authors:

Qin Nie, Jianhua Xu, Zuhan Liu
Important notes
Communicated by: H. A. Babaie
Abstract
Urban impervious surface (UIS) has been widely utilized to quantify urban expansion and assess environmental impacts of urbanization. In order to understand the complexity of spatio-temporal change of UIS spatial pattern, we investigated the fractal and multifractal characteristics of UIS spatial pattern in the downtown area of Shanghai, China during 1997–2010. Results suggested that UIS spatial pattern is a typical fractal structure with self-similarity during the study period. The fractal dimension reveals the spatio-temporal complexity of UIS pattern. With the threshold changing from small to large, the spatial complexity of UIS pattern is decreased. The increasing dimension values over time showed the UIS pattern becomes more complex and the spatial distribution becomes more clustered form 1997 to 2010. The multifractal approach transforms irregular UIS fraction data into a compact form and amplifies small differences between different data series. We also specially selected the W-E profile and the N-S profile to check the multifractality of UIS pattern. The results showed that the multifractality was detected in 1997 and 2002 on the W-E profile and only in 1997 on the N-S profile. The UIS pattern is more irregular on the W-E profile than that on the N-S profile according to the probability distribution, and the high fraction pixels are dominant on the two selected profiles by the positive ratio between the regions that the probability measure distributed most concentrated and most rarefied.