01-07-2020 | Original Article | Issue 14/2020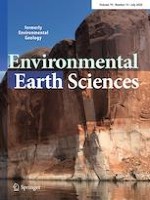 Free and open-source GIS-integrated hydrogeological analysis tool: an application for coastal aquifer systems
Journal:
Authors:

M. Perdikaki, R. Criollo Manjarrez, C. Pouliaris, R. Rossetto, A. Kallioras
Important notes
Publisher's Note
Springer Nature remains neutral with regard to jurisdictional claims in published maps and institutional affiliations.
Abstract
This paper demonstrates the application of a recently developed free and open-source GIS-integrated hydrochemical–hydrogeological analysis tool (named AkvaGIS) for the management and interpretation of hydrogeological data with respect to a coastal aquifer system. The aforementioned tool is composed of a geospatial database implemented in Spatialite, complemented with a set of developed tools for the analysis, interpretation, and visualization of groundwater quality parameters and hydrogeological data. This ICT tool is part of the FREEWAT platform, an open-source and public domain GIS-integrated modelling environment based on groundwater flow and solute transport numerical models, including a water management and planning module. The case study that was used to perform a demonstration of the aforementioned tool, is a coastal aquifer system in Greece, suffering from both seawater intrusion and nitrate contamination as a result of extensive agricultural activities. It involves a complex hydrogeological environment incorporating karst and granular aquifer layers, subjected to different exploitation conditions. AkvaGIS was proved a useful ICT tool for the analysis and interpretation of the collected hydrogeological/hydrochemical data and results, which may be considered as a valuable tool for analyzing different aspects of aquifer systems.