Published in: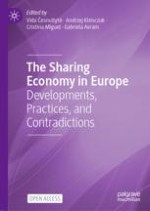 Open Access 2022 | OriginalPaper | Chapter
11. From a Sharing Economy to a Platform Economy: Public Values in Shared Mobility and Gig Work in the Netherlands
Abstract
This chapter discusses the sharing economy in the Netherlands, focussing on shared mobility and gig work platforms. The Netherlands has been known as one of the pioneers in the sharing economy. Local initiatives emerged at the beginning of the 2010s. International players such as Uber, UberPop, and Airbnb followed soon after. Initially, the sharing economy was greeted with a sense of optimism, as it was thought to contribute to social cohesion and sustainability. Over the last few years, the debate has shifted to the question of how public values can be safeguarded or stimulated. In this regard, shared mobility is hoped to contribute to more sustainable transport. In the gig economy, scholars and labour representatives fear a further flexibilisation of labour; others see opportunities for economic growth.
Introduction
Initiatives in the sharing economy started to emerge in the Netherlands at the beginning of the 2010s, making the country one of the world's pioneers. At the beginning of the 2010s, many local initiatives such as Peerby (borrow tools and other things from your neighbours), SnappCar (peer-to-peer car sharing), and Thuisafgehaald (cook for your neighbours) launched that enabled consumers to share underused resources or provide services to each other. This was accompanied by a wide interest from the Dutch media, zooming in on the perceived social and environmental benefits of these platforms. International commercial platforms such as Uber, UberPop, and Airbnb followed soon after. There have been various attempts to map the sharing economy platforms in the Netherlands. In 2018, the research project Deeleconomie in Nederland (The Sharing Economy in the Netherlands) found 250 different platforms. More than 200 of these have been documented in an online spreadsheet (Data aangemelde initiatieven, 2015). In terms of use, various studies have produced various results, depending on the exact definitions used of the sharing or platform economy. According to the Rathenau Institute (Frenken et al.
2017
), 23% of the Dutch population took part in the sharing economy in 2016, growing from 6% in 2013. In 2019 Statistics Netherlands (CBS
2020
) investigated the use of online platforms for ordering and exchanging goods or services and found that 58% of all Dutch citizens older than 12 had done so. This rose to the uptake of 80% in the age group 25–44.
For the population at large, food delivery (used by 35% of the population above 12 years in 2019) was the most popular, followed by second-hand goods (32%) and accommodation (20%). Transport was less in demand, with 8% of the population using a platform to order car sharing, taxi services, or other transportation platforms (CBS
2020
). According to the Deeleconomie Monitor 2018 (Hoekstra
2018
), the largest growth is taking place in the use of commercial platforms providing services. Idealistic motives to take part in the sharing economy only play a limited role. Especially in the use of mobility platforms, ease of use and attractive pricing are the main drivers for usage (Hoekstra
2018
). At the same time, there are still numerous more ideological-driven attempts to reorganise resource production and usage. For instance, in the Netherlands, in the past few years, many citizens have started to form energy cooperatives. Their number rose from 248 in 1015 to 582 in 2019, now servicing close to a quarter-million households (Schwenke
2019
).
After their entrance to the market, the societal debate about the impact of these platforms also started to include the negative consequences. Early on, universities and national research and policy institutes took part in these discussions by providing definitions, frameworks, and analysis from a perspective of public values (Straathof et al.
2017
; Frenken et al.
2017
; Van Dijck et al.
2018
; Van Eijk et al.
2015
). In the last few years, the attention has shifted from the sharing economy to the much broader defined platform economy and its societal impact. In this chapter, this shift in the sharing economy and its societal repercussions will be illustrated by focussing on two discussions that have recently been waged around the sharing and platform economies in the Netherlands: shared mobility and gig work. Before we zoom in on these two domains, first, an overview will be given of the definitions of the sharing economy in the Netherlands and the most important issues brought up in the debate.
Definitions and Debates of the Sharing Economy in the Netherlands
In the Netherlands, the term 'deeleconomie' is a literal translation of the concept of the sharing economy (to share = delen). It started to gain popularity in 2013 when mainstream media such as newspapers and magazines started to report on the phenomenon highlighting Dutch start-ups in this field, such as Peerby and SnappCar. Originally, the term was used to refer to platforms that allow citizens to make use of each other's goods as well as to platforms that offer various kinds of services.
Shared Mobility: Contributing to a More Sustainable City, or Usurping Public Space and Undermining Worker's Rights?
Discussions on shared mobility in the Netherlands are tightly connected to the broader debates about the sharing economy. On the one hand, shared mobility and especially car sharing is seen as a possible contribution to a greener and more sustainable economy. On the other hand, negative consequences have been discussed with regard to public values such as consumer and worker protections as well as qualities of public space. Three forms of shared mobilities have been debated widely in the Netherlands: bike-sharing, car sharing, and ride-hailing.
Bike-Sharing and Electric Scooters
Bike ownership in the Netherlands has been one of the highest in the world. Its 17 million inhabitants own 23 million bikes. Already 25% of daily mobility takes place by bike (Harms and Kansen
2018
). Since 2003, the OV-fiets (Public Transport Bike), a bike rental scheme at Dutch public transit stations, has grown increasingly popular. With their public transport chip card, users of public transport can pick up and return a bike at a train station or bus terminal for a small fee (currently 3.85 euro for 24 h). Usage has grown from around 100,000 rides in 2004 to more than five million in 2019 (OVPro
2019
). Private lease constructions for bike usage have also become more popular in the last few years. The Dutch start-up Swapfiets is now active in four countries and has reported 200,000 customers leasing their bikes (De Ondernemer
2020
).
Combined, these developments have left less room for the docked and dockless public bike-sharing schemes that have been set up in some other countries. Still, a number of providers have started experiments in the Netherlands. For instance, Mobike has distributed its dockless bikes in Rotterdam and Delft. Flickbike introduced between 4000 and 6500 bikes in Amsterdam. Especially in Amsterdam, this led to lots of discussions about the negative impact of the parked and abandoned bikes in public spaces, and hence the desirability of commercial companies usurping public space for their services. In 2017 the City of Amsterdam, after an injunction against Flickbike, the city removed all the bikes on the ground of a regulation prohibiting commercial service provisions in public space. In 2020 the City allowed four new small-scale experiments for a total of 1400 (partly electric) bikes (Fietsberaad Crow
2020
).
So far in the Netherlands, electric scooters such as those offered by Lime and Bird have been deemed illegal. A number of cities have started to experiment with electric motor scooters through companies such as Go Mobility and Felyx. The national government has taken an interest in bike-sharing systems as part of a larger mobility policy, in which bike-sharing can play a role for first and last-mile solutions in broader Mobility as a Service provision. Although there are yet no figures available that show the long-term impact of bike-sharing, it is expected that each new shared bike could contribute to 0.1–0.6 people avoiding rush hour (car) traffic per day, and as such contribute to CO
2
reduction, which is calculated at around 0.37–2.22 kg (Ministerie van Verkeer en Waterstaat
2020
).
Car Sharing
Similar hopes have been expressed around the development of car sharing systems. In 2017, various parties signed a so-called 'Green Deal' (a covenant between various parties, including (local) governments in the Netherlands) about car sharing. Parties involved included car sharing providers, insurers, municipalities, environmental organisations, and the ministries of Economic Affairs and Infrastructure and Environment. The goal of this programme was to stimulate car sharing and contribute to a better environment. In the first Green Deal, the parties committed to developing a total of 100,000 shared cars by 2018. Although this number was not realised, there was enough interest to renew the commitment in 2018, now aiming for 100,000 shared cars and 700,000 users by 2021. Parties involved have projected that participants who exchange their regular car for a shared one contribute to a reduction of between eight and 13% of their CO
2
emissions. In addition, the goal is to free up parking places in cities and make these spaces available for green spaces and recreation (RVO
2018
). By the end of 2020, the ambition with regard to the number of users had already been met, whereas the number of available cars had grown to 64,000. Part of the new interest has been ascribed to the COVID-19 crisis. As a result of the crisis, citizens wanting to avoid public transport turned to car sharing, whereas commuters no longer needing their car to travel to work could more easily offer these through platforms (Kennisplatform Crow
2020
).
The interest in car sharing is accompanied by the emergence of experiments around 'Mobility as a Service' that include various modalities of transport in a single platform. In the Netherlands, seven national pilots have been set up in different cities across the country. International initiatives such as Whim have announced plans to enter the market in the Netherlands, but so far have not implemented these. Looking at developments in car sharing, a wide variety of options are now available (Münzel et al.
2017
). Most cars are available through peer-to-peer services, with the Dutch start-up SnappCar being one of the pioneers in this field worldwide. However, in the last few years, more offerings have appeared in the product-service economy, with various companies offering subscription services or private lease constructions for consumers to make use of their fleets. In line with this development, Snapcar itself has also started offering private lease constructions to customers, who then make their cars available for sharing through the SnappCar platform. In addition, there is a rise in community car sharing, in which local groups of residents manage small fleets of cars (Arets
2019
).
Experts expect that commercial services will grow in popularity due to their ease of use, yet they still see a future for peer-to-peer models of sharing. These will especially have a future in renting out 'specials' such as old-timers, convertibles, or campers (Arets
2020
). In general, it can be said that the sharing economy in the Netherlands has become more commercial and professional in character, where peer-to-peer sharing between consumers is increasingly meeting alternatives offered by commercial services.
Ride-Hailing
This commercial perspective is especially prominent in the third domain of shared mobility: ride-hailing. Whereas in car sharing, consumers use a car offered by a peer or a company, ride-hailing concerns mobility services in which the consumer is a passenger, either sharing a ride with another consumer or making use of a commercial mobility service platform such as Uber. The latter has tried to disrupt the Dutch market for taxi services by introducing the peer-to-peer service Uberpop in the Netherlands in 2014. At the time, the company claimed it did not need to comply with taxi regulations, as the drivers were private individuals offering a peer-to-peer service. After it was fined several times, the company shut down the service in 2015 and, in the end, received a 2.3 million euro fine for its illegal activities in 2019 (Van de Weijer
2019
).
The rise of commercial ride-hailing platforms has led to numerous debates about the safeguarding of public values, such as protecting consumer safety and worker's rights. Uber made headlines in late 2018 and early 2019 after a number of deadly accidents were caused by Uber drivers (e.g. Van Bergeijk
2018
). Now the debate focussed on the responsibility of organising shared mobility. Does the platform itself have a responsibility, or does it lie with the individual service providers who operate through the platform? Critics of the company claimed that Uber's business model stimulates drivers to make long hours on the road, cruising around the city looking for a fare and thus compromising safety (e.g. Kruyswijk
2018
). In reaction, the city of Amsterdam and Uber started discussions in the Uber Taskforce, leading to a social charter in which Uber pledges to improve safety, amongst others, by introducing in the future facial recognition technologies to make sure drivers do not mislead systems that check on maximum driving times. Uber will also start sharing data with the city of Amsterdam to make the practises of its drivers more transparent. With these discussions, another aspect of the sharing economy has come into play: that of labour relations and the gig economy. The next session will further elaborate on the debates around the organisation of labour and the safeguarding of public values that have arisen in the Netherlands in the past few years.
The Gig Economy in the Netherlands: New Economic Opportunities, or Deterioration of Workers' Rights?
As shown in the previous paragraph, discussions about Uber do not only address the organisation of shared mobility but have started to include discussions about the organisation of labour in the platform economy. These are part of a broader debate about the gig economy and the organisation of platformised work. Since the sharing economy in the Netherlands was quickly delineated with a narrow definition referring to consumers making use of each other underused resource, it was clear from the start that (paid) labour could not be placed under the umbrella of the sharing economy. With the gig economy, a separate definition was minted for the supply of paid labour services through platforms. It was defined as follows: 'The gig economy consists of freelancers who perform one-off physical tasks (jobs), where the assignment is paid for and is created via an online platform (a website or an app)'. Although there is consensus about the definition, in practise, providers do not have the status of a freelancer in all cases. For example, providers on platforms that mediate between the supply and demand of services in and around the home (babysitting, home cleaning, and homework supervision) often work under the Dutch 'Regulations for Services at Home.' A scheme that indemnifies the consumer as an employer against certain responsibilities, but in principle, has little impact on the position of the provider.
Size and Shape of the Gig Economy: Mostly Facilitating Low-Skilled Labour
Various studies have made an effort to map the gig economy in the Netherlands. For example, in an online survey of 2125 Dutch adults, a representative for all Dutch citizens aged 16–70 years, conducted by the University of Hertfordshire and Ipsos MORI, in 2016, 18% indicated that they had at some point tried to find work through gig economy platforms. About one in eight (12%) of the respondents indicated that they made money this way at some point (Dhondt et al.
2020
). SEO Economic Research conducted a sample of more than 5440 people in 2019 and concluded that a total of 1.7% of the working population has been or has ever been active as a gig worker. A large part (1.2% of the working population) indicated that they have been active as a gig worker in the past year (Ter Weel et al.
2020
).
In 2020 independent research organisation TNO made an overview of the gig economy landscape in the Netherlands. For this, they used, amongst other things, a dataset set up by Martijn Arets as input for the Dutch website Platformwerk (
2020
). As of December 2020, this website listed 82 platforms in the Netherlands for various forms of work, from cleaning and construction to creative and legal jobs. TNO analysed the platforms based on skills level for the execution of the work (Pesole et al.
2018
). They use the International Standard Classification of Occupations ISCO 2008 classification 2 according to a professional level. They concluded that 23 out of 66 platforms offered opportunities to low-skilled workers. Examples are food delivery, cleaning, freight transport, and walking dogs. Eighteen platforms offered jobs that require medium-level skills such as construction, tourism, and health care. Only five platforms provided opportunities for high-skilled work such as IT, business services, education, the legal profession (Verbiest et al.
2020
).
Impact on Labour Conditions: Enabling Easier Access to Paid Work at the Risk of Increasing Precarity
Summary
The Netherlands was an early adopter of the sharing economy. Whereas initially, the sharing economy was framed from a perspective of social relations and its potential positive impact on society, increasingly, it is now seen from an economic perspective. Services themselves have commercialised with commercial companies offering, for instance, mobility in a product-service economy through platforms, although there are also some interesting counter developments. In car sharing, community car sharing between groups of local residents has grown increasingly popular, and energy communities consisting of citizens who collaboratively produce and consume their own energy, both pointing to the emergence of citizen organised resource communities.
In general, though, the debate has turned from a sharing and collaborative economy to a platform economy. With that shift, platforms are now seen as new factors in the organisation of the economy at large as well as the provision work, acting as private regulators that set the conditions for interaction and mediation in many markets. Debates are now focussing on the effects of this on public values. Platforms may still positively contribute to these, for instance, by greening mobility or by making it easier for people to find paid work. Yet, at the same time, it is feared that the commercialisation and extractive nature of some of the main platforms could lead to precarious working conditions. The fact that many of these commercial platform operators position themselves merely as mediators and as having no responsibility themselves for the sector they operate in adds to fears that they are offloading responsibility for issues such as consumer safety or workers' rights to society at large. Meanwhile, governments at various levels are trying to get a grip on these developments, as in many cases, they have not yet found the right answer to regulate these platforms as, for instance, platforms such as Airbnb have refused to cooperate with local regulation. This struggle for the provision of public values and the regulation of and within platforms is likely to remain an important theme in the years to come.
Open Access
This chapter is licensed under the terms of the Creative Commons Attribution 4.0 International License (
http://​creativecommons.​org/​licenses/​by/​4.​0/​
), which permits use, sharing, adaptation, distribution and reproduction in any medium or format, as long as you give appropriate credit to the original author(s) and the source, provide a link to the Creative Commons license and indicate if changes were made.
The images or other third party material in this chapter are included in the chapter's Creative Commons license, unless indicated otherwise in a credit line to the material. If material is not included in the chapter's Creative Commons license and your intended use is not permitted by statutory regulation or exceeds the permitted use, you will need to obtain permission directly from the copyright holder.