01-09-2020 | Cover Story | Issue 9/2020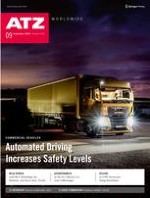 "From a technical perspective, we're ready to go"
Journal:
Author:

Frank Jung
Many experts believe that automated driving systems up to and including level 5 will first become widely available in the commercial vehicle sector and in passenger transport. Torsten Gollewski, Executive Vice President Autonomous Mobility Systems at ZF, gives an insight into the company's latest developments, ranging from central computers and electric robo-taxis to shuttles that are reliable in all types of conditions.
×
...