2021 | OriginalPaper | Chapter
From Autologous Flaps to Engineered Vascularized Grafts for Bone Regeneration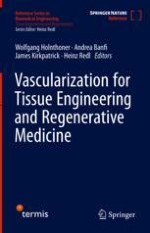 Read first chapter
Authors: Alexander Haumer, Tarek Ismail, Alexander Lunger, Rik Osinga, Arnaud Scherberich, Dirk Johannes Schaefer, Ivan Martin
Publisher: Springer International Publishing
Abstract
Replacement of damaged or lost tissue typically relies on the availability of living, functional substitutes and the rapid development of a stable and efficient vascularization upon transplantation, in order to guarantee their survival. These requirements challenge current surgical reconstruction techniques in the clinical practice.
In the past decades, the field of tissue engineering has introduced the possibility to combine materials and living cells to generate functional substitutes, which can be tailored to specific requirements of the implantation site. At the same time, plastic and reconstructive surgery has developed a large armamentarium of grafting possibilities and flaps supporting vascularization of native tissues, especially through progress made in microsurgical techniques.
In this chapter, we describe advances in the two fields and discuss how the principles and techniques independently developed could be combined towards the prefabrication of vascularized tissues. The resulting paradigm of "regenerative surgery," here exemplified in the specific context of bone regeneration, could represent the future standard for the reconstruction of complex body parts.