11-08-2021 | Issue 4/2021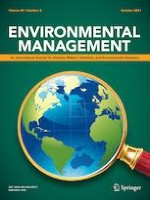 From Project Impacts to Strategic Decisions: Recurring Issues and Concerns in Wind Energy Environmental Assessments
Journal:
Authors:

Nipa Dutta, Bram Noble, Greg Poelzer, Kevin Hanna
Important notes
Publisher's note
Springer Nature remains neutral with regard to jurisdictional claims in published maps and institutional affiliations.
Abstract
Wind energy is among the fastest-growing renewable energy source. Although not as controversial as fossil fuel-based energy projects, wind energy projects can be contested. Understanding common environmental assessment issues surrounding wind energy projects is important for addressing the transaction costs for renewable energy projects. This research examined 16 environmental assessments (EAs) for wind energy projects in Western Canada to identify the recurring issues and concerns raised by government reviewers, project interveners, and other affected interests. Fifty different issues were identified. Although variability existed among the number and diversity of issues by jurisdiction and by project, depending on location and size, concerns about land use, impacts on human well-being, impacts on natural ecosystems, and economic opportunity, represented nearly 80% of all issues and concerns. The majority of issues reflect project-specific impacts and concerns, but many issues including impacts to other land tenure holders or licensees (such as other utilities and industries) are issues that are beyond the scope and scale of what can be resolved at the time wind energy projects are proposed. Understanding and addressing recurrent issues and concerns and shifting the bigger issues to the planning and strategic process, are important conditions for the energy transition.