28-03-2019 | Production Process | Issue 2/2019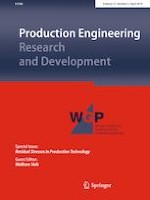 Functional analyses to assess the effect of the curing process on the properties of light activated composites
Journal:
Authors:

A. Gloria, M. Martorelli, S. Gerbino, F. Tagliaferri, V. Kräusel, A. Lanzotti
Important notes
Publisher's Note
Springer Nature remains neutral with regard to jurisdictional claims in published maps and institutional affiliations.
Abstract
Light activated composites are the most popular choice in the field of dental restoration. They generally show internal stress even after a prolonged time period. The knowledge of mechanical properties and residual stress should provide interesting information on the clinical performance of such materials. Accordingly, in the current research experimental analyses were carried out to assess the effect of the curing process on the properties of one of the most commonly employed light activated dental composites (Gradia Direct—GC Corporation, Japan). At 10 min, 1 h and 24 h after light curing, the bending modulus (4.7–6.2 GPa) as well as the punching performance (peak load of 12.1–17.5 N) were evaluated for the micro-hybrid composite. Scanning electron microscopy also allowed to analyze the fracture surface. Residual stresses ranging from 0.67 ± 0.15 MPa to 1.12 ± 0.17 MPa were measured by means of the thin-ring-slitting approach reported in the literature, according to measurement time and cutting time.